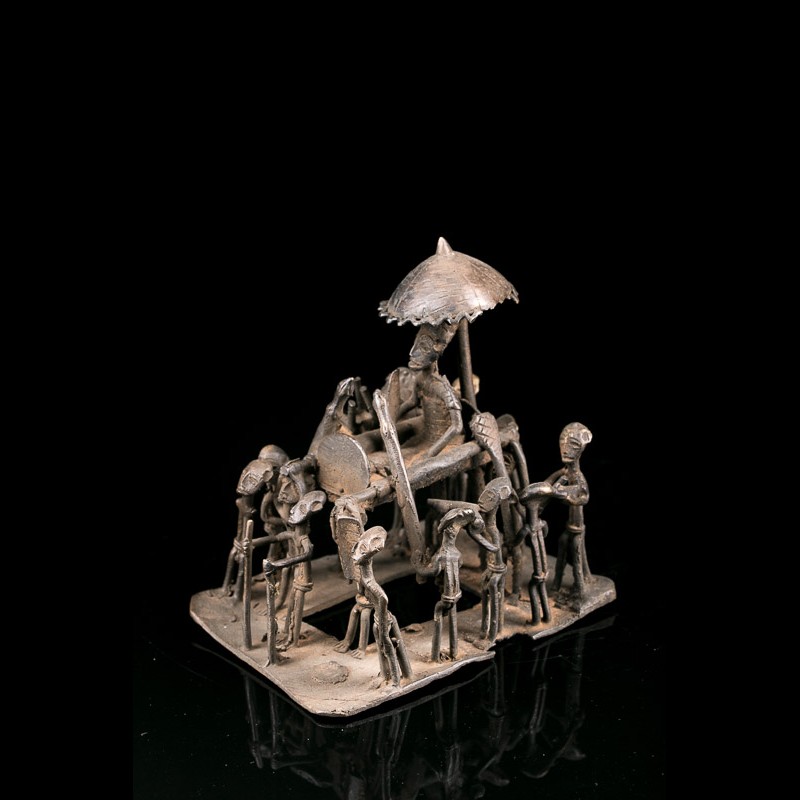  
Ashanti bronze figure - SOLD OUT
Bronze in african art
A cast bronze figural group displaying technical mastery and a sense of animated force for a small scale work of art. To the centre is a palanquin with a large parasol under which sits a chief holding a fan. The palanquin itself is carried by four servants and around are a number of servants carrying items of baggage and furniture, with one to the front acting as a guard and carrying a rifle Two figures to either side of the chief appear to be holding up flaming torches. The whole is set on a rectangular base with an open work centre.  
 
The Ashanti are renowned for their bronze figures, particularly the gold weights that come in numerous different forms and which have underlying symbolism of moral tales and proverbs. Although the function of this piece is not fully understood, it may be a symbol of authority for a gold merchant, displaying the judicial power of the chiefs and that the merchant is working to these principles - in short the piece may reflect that the merchant is an honest man ! Although Ghana is a democratic country, the traditional system of chiefs is still very much a powerful force, with politicians seeking advice from the chiefs.
The word for a chief in Ashanti society is Nana and there are seventeen different types within the hierarchy of the chieftain system. Each of the chiefs, aside from the judicial role that they exert, also has specific functions according to their place in the hierarchy, so there will be a  chief who is the caretaker of the palace, one who acts as a second in command to a more senior chief, one who is responsible for the treasury, or the army, etc. Each has their own entourage and retinue and the chief is recognised by certain regalia that they have about them.
The palanquin is reserved for high ranking chiefs and the large parasol not only shades them from the sun, but also acts as a warning from afar of their approach to a village.
Data sheet
Presumed dating

1st half XXth century

Size

+/- 15 x 13 cm

Ethnic group

Material(s)

Bronze

Country

Origin

Tribal Art Collection Portugal

Condition

Excellent
You might also like