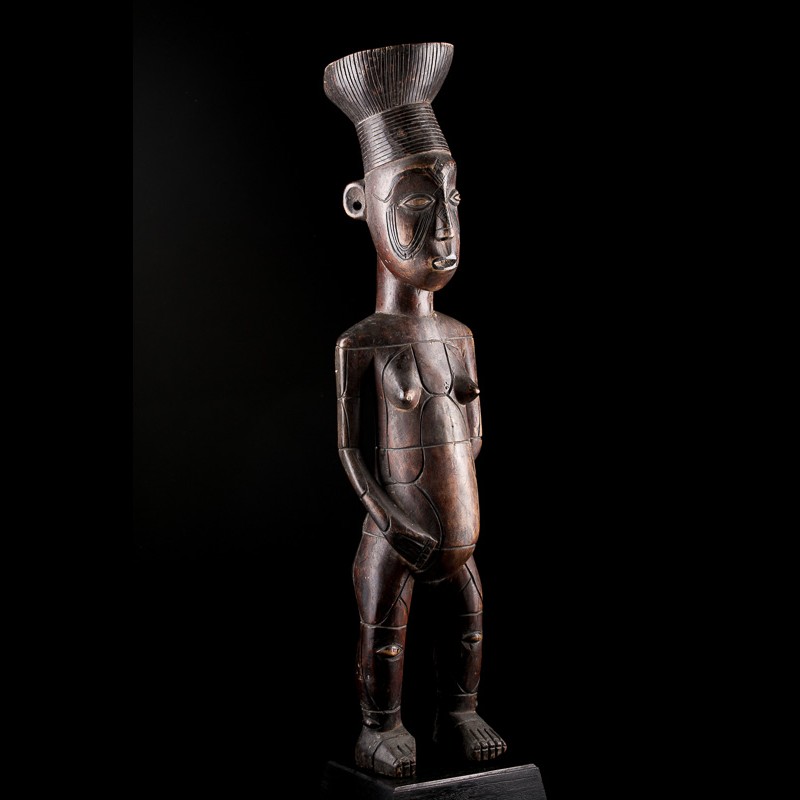  
Mangbetu ancestor figure - SOLD OUT
The Mangbetu practice the elongation of the skull and the women have a characteristic halo hairstyle that we find in a perfectly elaborate way on this statue. Here is a very important criterion of authenticity! The position of the hands on this sculpture is very rare, one hand placed on the stomach, the other on the back, this Mangbetu statue is linearly and discreetly adorned with black paints made from vegetable juice using various geometric shapes. Formerly the nobles were keen to own objects characterized by their quality of refinement.

ORIGIN :
This Mangbetu statue is part of the important B. B. collection, active since the 1960s in Brussels. For a long time, he has collaborated with major Brussels dealers and international collectors. B. B trusts our gallery to offer its pieces for sale.

A document certifying the provenance of the B. B. collection signed by hand is provided to the buyer.

See J. J. Dukto archives, a very similar copy was brought back in 1932. Only the color of the patina differs.
We observe the stylistic canons Mangbetu in all their splendor. A truly old piece testifies to the sculptural quality and the finesse of the details.
Numerous scarifications, high headdress.
Exhibited in New York in 1990.
Major piece given its large size of 65 cm.
Estimate by Catawiki experts : 3250 - 3750€
Data sheet
Presumed dating

Circa 1950

Size

65 cm

Expert's estimate

3250 - 3750 €

Ethnic group

Material(s)

Wood

Country

Origin

Collection privée Belgo/Suisse B. B.

Stand

Included

Condition

Excellent
You might also like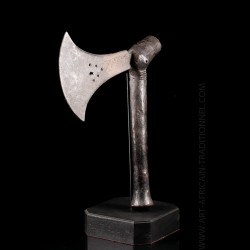 Regular price
€220.00
-25%
Price
€165.00