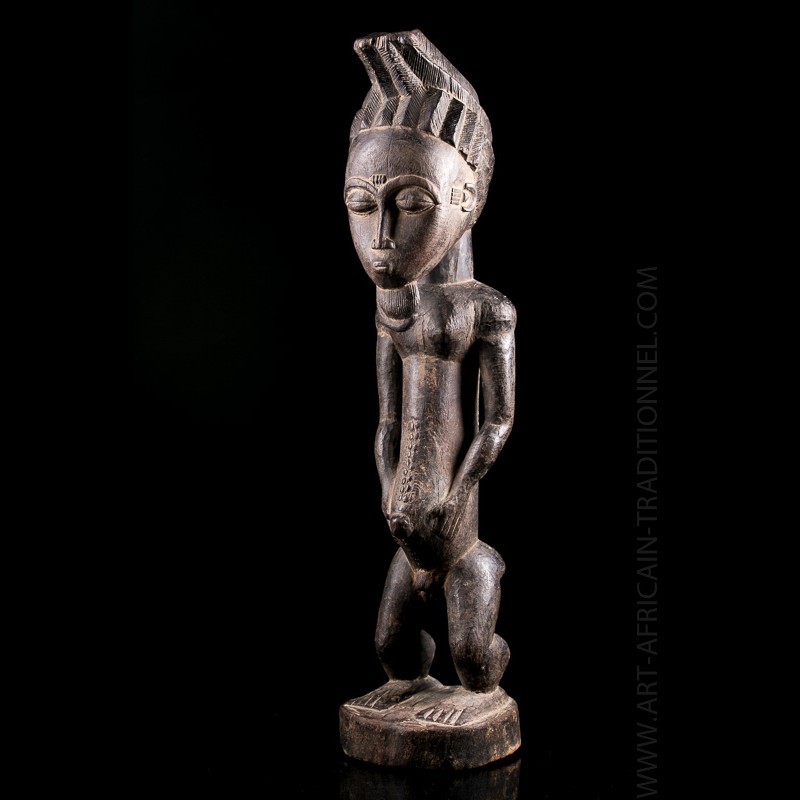  
Baule Asie Usu figure - SOLD OUT
The aesthetics in Baoulé tribal art
Exceptional piece with an extremely detailed spiral cap.
The symmetry of the face is also remarkable, just like the antique patina that leaves visible the texture of the original wood.
How to act on the spirits and bring them to "live" temporarily in a work of art that will absorb their power, to regulate it.
The statue is not the "portrait" of the genie, just its interior.

According to the expression, "genius lives in the statuette" (Asia usu i tran olè). Dissatisfaction is a characteristic of geniuses: after agreeing to reside in the village, they do not just want to look like ordinary people; it is important for them to appear under idealized, magnified features.

The statue must be as attractive as possible because genius requires that everything that happens in humans be concealed for defects. If the figure was ugly, the genius might think that we are trying to make fun of him. A splendid work, on the other hand, predisposes genius to be benevolent.
A true museum piece, our gallery is proud to present this Baoule Usu Asia statue.
Data sheet
Presumed dating

1st half XXth century

Size

60 x 13 cm

Expert's estimate

Ethnic group

Material(s)

Wood

Country

Origin

Tribal art collection France