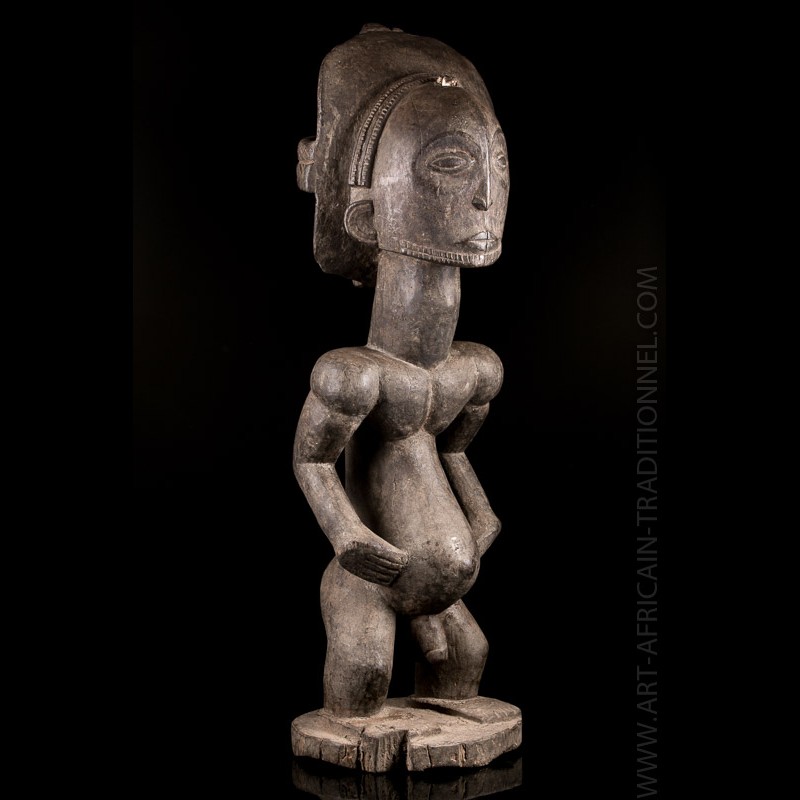  
Large Hemba Singiti ancestor figure
Ancestors in african art
True treasure of African art, this large and masterful Hemba Singiti statue depicting an ancestor amazes with its typical anatomy. The posture is arched, the scale of the head seems greater than that of the body. A large cap pulled back carries a finely chiseled cross. A small damage is visible on the back of the statue and will therefore not spoil the quality of this African statue.
There is a definite bias on the face: symmetrical facies, fine crenellated beard, tooth encrusted in the forehead.

Hemba African art has long been considered an integral part of Luba art. It was only in the 1970s that experts distinguished between the two ethnic groups and therefore the two artistic corpora. Immediately upon their appearance on the market, the Singiti ancestor statues were a resounding success. This memorable piece will delight any collector looking for an authentic large Hemba piece.
Data sheet
Presumed dating

Mid XXth century

Size

73 x 20 cm

Expert's estimate

1400 - 1600 €

Ethnic group

Material(s)

Wood

Country

Origin

Tribal art collection Belgium

Condition

Very good
You might also like