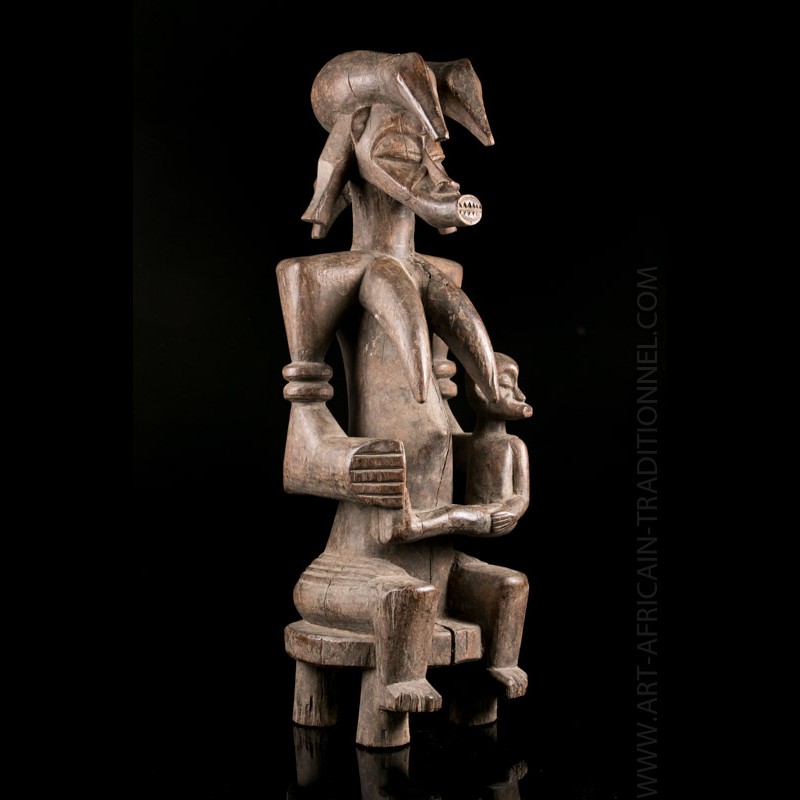  
Katyeleo Senufo maternity figure - SOLD OUT
The corpus of African art Senufo must be understood in the light of the Poro, the fundamental institution, the basis of community life, the system of political and economic control that forms by initiation rites young people and in fact adults integrated into the life of the village.
She teaches initiates to recognize the proper signs of their cultural identity. This association is also found in other neighboring groups.
The mother of the village, Katyeleo represented by this beautiful traditional African statue, is in charge of an extremely important role since it is on her that rests the responsibility of regenerating the cultures, the universe and the inhabitants thanks to the rites of Poro.On found in this piece the senoufo aesthetic constants such as the arched bust and the prognathous head forming a beautiful sinuous curve. Her generous breast nurses a child.
Some native repairs are slightly visible on this old piece.
African tribal art piece carved in dense wood.
Data sheet
Presumed dating

1st half XXth century

Size

59 x 19 cm

Expert's estimate

Ethnic group

Material(s)

Wood

Country

Origin

Tribal art collection France

Condition

Excellent
You might also like