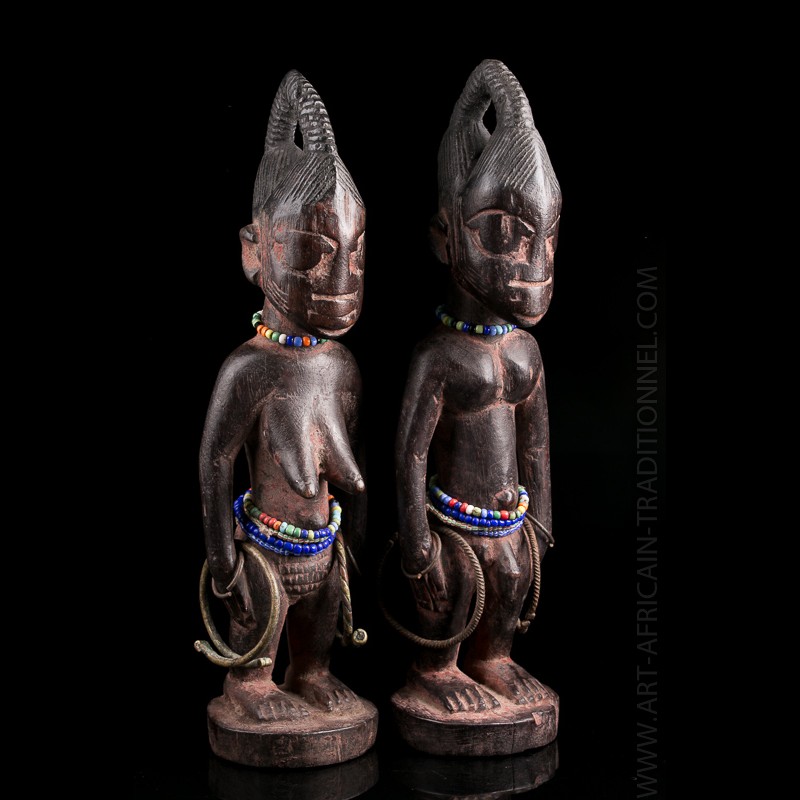  
Yoruba Ilorin Oyo Ibeji twin figures - SOLD OUT
The ibedji or ibeji twins are well known in African art among the Yoruba. Our gallery presents this pair of twins lying in style between the Ilorin and Oyo styles. They actually come from the area between these two places, in the center of the Yoruba country, in Nigeria.

The Ibedji of each sub-region have their own characteristics or that they share with a nearby region. Thus, these African statues are easily identified by their high openwork headdress like a ring. The body is presented in a classic way: arms dangling, hands resting on the hips. Large brass rings serve as a bracelet.
Around the neck and waist, pearl necklaces.

The facies are very smooth, this is a typical stylistic bias of the region. The figures stand on a base, the feet are not separated. The shoulders are drooping.

Note that these are false twins since one is male, the other female.
In traditional Yoruba art, these figurines are carved in honor of the twins. Their mother will take care of the statuettes as she would do her children in reality. It should be noted that the festivities linked to the birth of twins have not always existed in Yoruba culture. On the contrary, for several centuries the birth of twins was seen in opposite, as a sign of unhappiness. This is the reason why these children could be abandoned in the bush or even killed.
Data sheet
Presumed dating

Circa 1950

Size

32 x 8 cm

Ethnic group

Material(s)

Wood, accessories

Country

Origin

Tribal Art Collection United Kingdom

Condition

Excellent