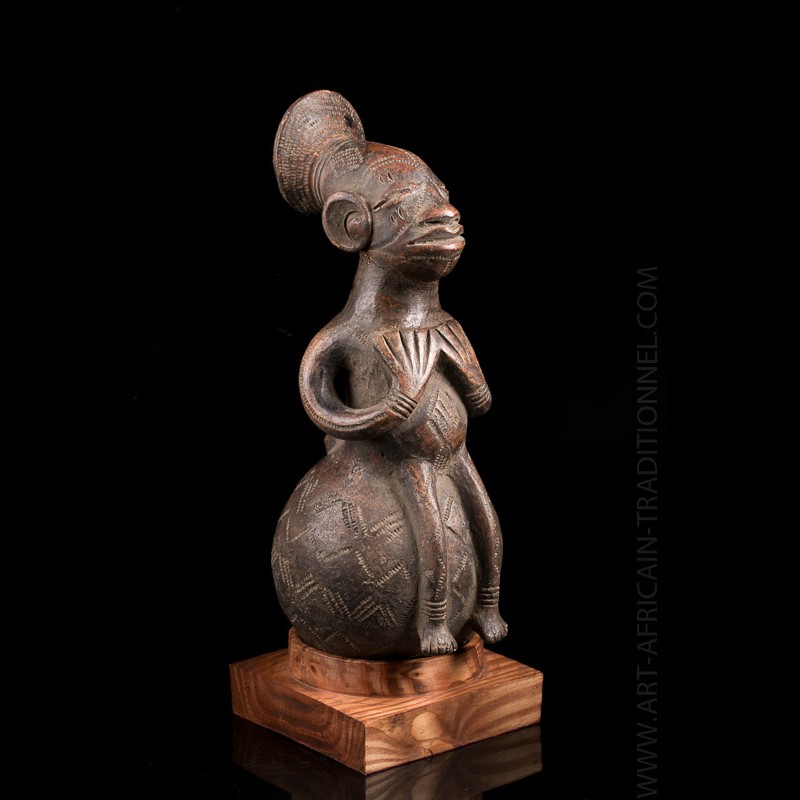  
Mangbetu figurative jar - SOLD OUT
This jar magnificently illustrates a Mangbetu art dedicated to the exaltation of beauty. In the first quarter of the twentieth century, some artists - in the village of Niangara and at the court of King Okondo - initiated the tradition of an anthropomorphic pottery that has emerged as one of the most sensitive expressions of art Mangbetu.
This is one of the most remarkable witnesses.
Transcending the functionality of the object, the bust / receptacle blossoms in the curves of the belly, the movement of the neck offering to the head its haughty port. To the perfection of the form is added the refinement of the signs of beauty, expressed in the features of the face or arranged by the hand of the man.
We find this type of jar among others at the Minneapolis Institute of Arts.
Restoration performed at neck level by a highly specialized workshop.
Data sheet
Presumed dating

Circa 1960

Size

32 x 13 cm

Expert's estimate

390 - 450 €

Ethnic group

Material(s)

Terracotta / Ceramic

Country

Origin

Tribal art collection Belgium

Condition

Very good