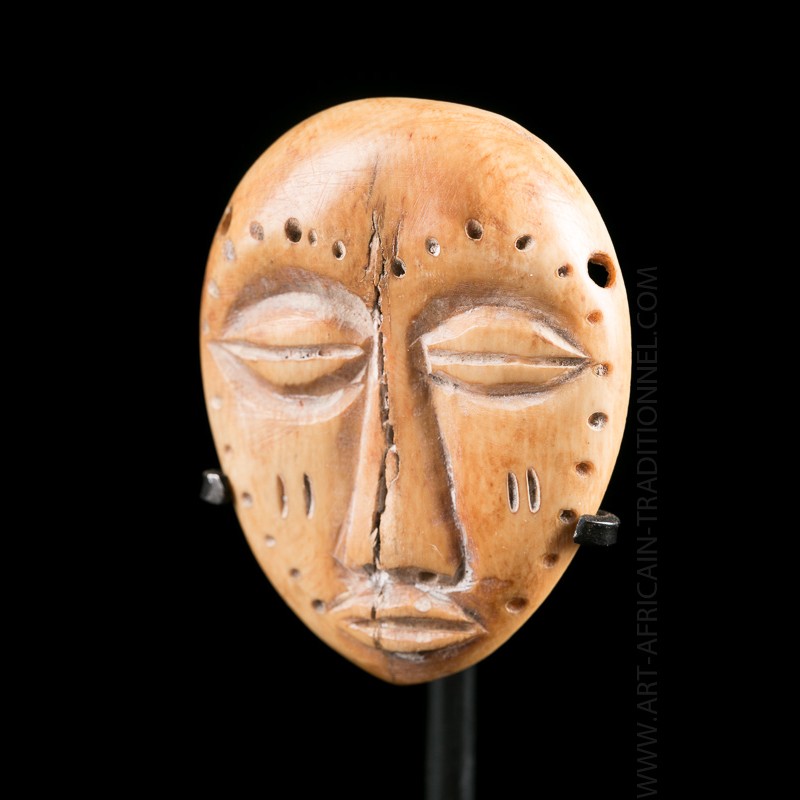  
Lega Lukungu mask
African art and miniature masks
Very small African mask from the Lega in eastern Democratic Republic of the Congo. It's a little face with coffee bean eyes. Around the face, small perforations.

In the Lega artistic corpus, among the objects of initiation to Bwami, the final category is that of Lukungu masks such as this one. These are small individual masks made of ivory or bone that mark the rank of the Lutumbo lwa Kindi, the highest rank. The use and meaning of these objects is more limited than that of other masks (including Lukwakongo, Muminia and Kayamba). The Lukungu mask is never worn on the face or body of its owner or any other member of the Kindi. It is only taken out during initiations at Kindi. On the death of an initiate, it is placed on his grave, then it passes to a nephew entitled to inherit it.

When the Lukungu are taken out, they are coated with oil and displayed on a barrier in front of their seated owner. While women can handle some Bwami objects, they never handle their husbands' Lukungu.

These Lega masks evoke the death and skulls of war victims.
Data sheet
Presumed dating

Circa 1930

Size

5,5 cm

Ethnic group

Material(s)

Bone or ivory

Country

Origin

African art gallery

Condition

Vintage
You might also like