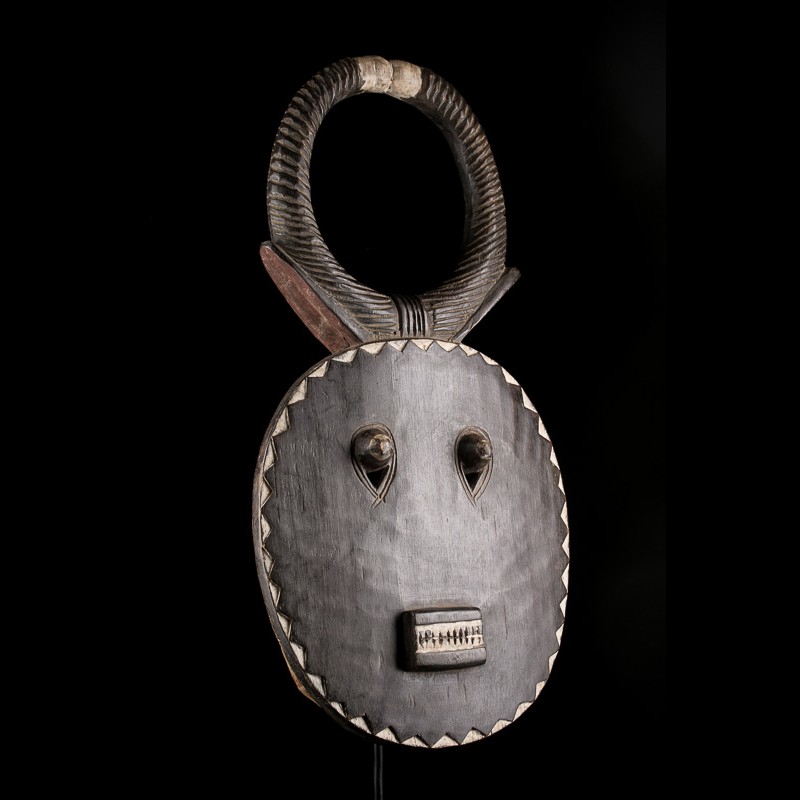  
Kple Kple Baule Goli mask
From African primitive art to European modern art 
Our expert certifies that this Baule work of art was traditionally sculpted. Following his technical analysis, it appears that traces of use are visible on the perimeter and inside of this mask, the internal patina also corresponds completely to what it should be, pure and ancient, without artifice, nor later addition of material. 
Ancient Goli masks are particularly rare. This style of African mask is part of a stylistic corpus that inspired many painters of the early 20th century, of modern avant-garde art.  
This Baule African mask is used at funerals or when a serious danger threatens.
The Kple-Kple type mask like this one, worn by a young person, announces the exit of the powerful Golin Glin. The circular face is always surmounted by horns, like those of the ram, these horns link him to Nyamye, the creator god.
The sobriety of the features with the toothed mouth and the white circular crenellation further support the expression of the face. 
Data sheet
Presumed dating

Circa 1950

Size

55 cm

Ethnic group

Material(s)

Wood

Country

Origin

Tribal art collection France

Condition

Excellent