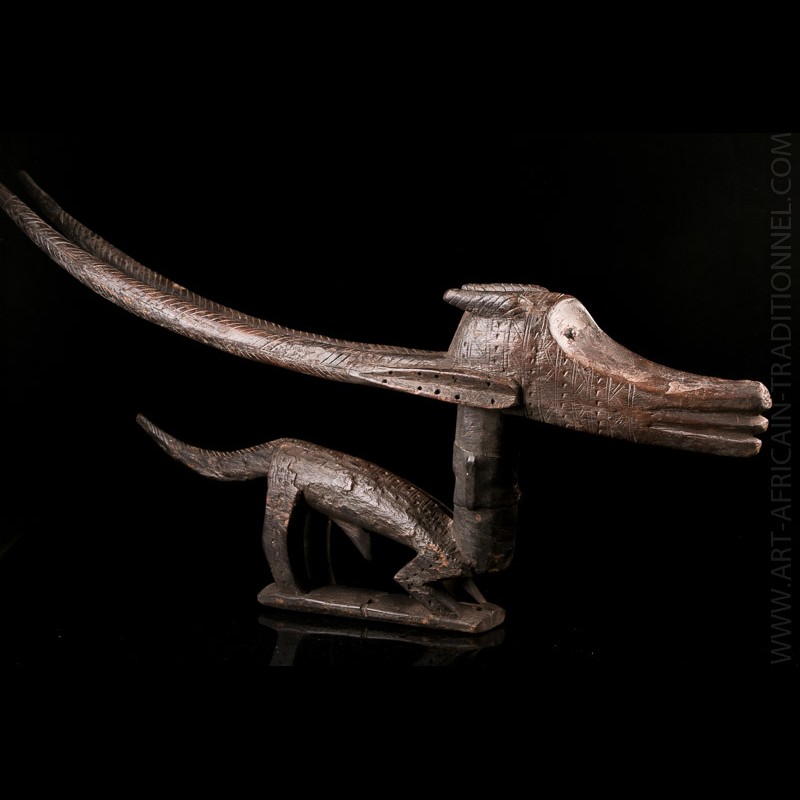  
Tyi Wara Bambara crest mask
In the Bambara culture in Mali, people of cultivators, the feast of Tyi Wara (Ci Wara) is a cult celebrating the invention of agriculture and the mysteries of sexuality. In order for the rains to fall on the fields and bring them to life, there are rites to be performed. Then come superb African masks like this one, worn on the top of the head by a dancer. These elegant openwork sculptures leave their sanctuary with their long fibers.

In African art, Ci Wara masks are world famous and have become one of the emblems of Africa. The propitiatory dances in which they appear are performed in pairs by Ci Wara. It would be fatal for an assistant to pass between the two masks. The male leans on a short cane which symbolizes the primordial hoe. This cane is the miraculous body of the metamorphosed snake which becomes the first tool. The dance will evoke the coupling of sacred principles. The rain will come then.

This magnificent collector's item features a male horse-drawn antelope. The style corresponds to that of the region of the Bamako region where the object was collected in the 1950s by a French doctor. The so-called Bamako style is characterized by a horizontal approach in the declination of the antelope, opposing the three other styles: those of Ségou, Sikasso and Bougouni.

Note the remarkable state of conservation of this exceptional piece despite its age and the finesse of its elements.
Data sheet
Presumed dating

Circa 1940

Size

35 x 73 cm

Ethnic group

Bambara / Bamana

Material(s)

Wood

Country

Mali

Origin

Tribal art collection France

Condition

Excellent
You might also like