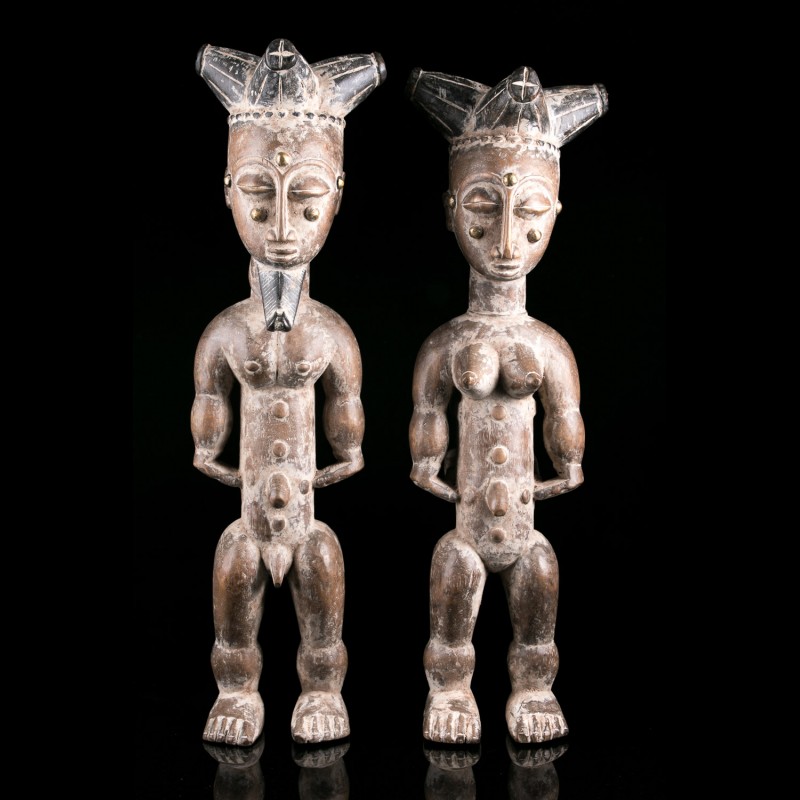  
Couple of figures - Attie - Ivory Coast
Traditional Attié / Akyé art in the lagoon regions of Côte d'Ivoire and Ghana
The Attié, also called Akyé, are located in the north of the Grand Bassam lagoon. In their traditional art, there are statues with geometric shapes and complex headdresses. Aesthetics and beauty, especially feminine, are of great importance in Attié art. There is also a celebration focused on the selection of the most beautiful village, especially when she was able to retain all its beauty despite her pregnancies.
Here, we observe a couple of statues answering the aesthetic canons of the sculptors of the region. The small arms are placed along the body, hands joining the trunk. The light wood of the kaolin-covered body strongly contrasts with the multi-lobed headdress. The female character is a maternity with a child on her back.
These authentic pieces are offered by our gallery at a price lower than the estimate established by the experts of the famous auction room Catawiki.
Origin : private collection, France Dating : 1950 Size : 42 x 10 cm Material : wood, kaolin
Data sheet
Presumed dating

Mid XXth century

Size

Expert's estimate

Ethnic group

Material(s)

Wood

Country

Origin

Tribal art collection France
You might also like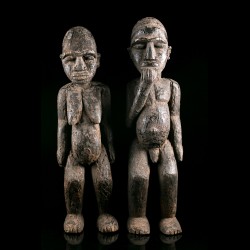 Regular price
€495.00
-€100.00
Price
€395.00