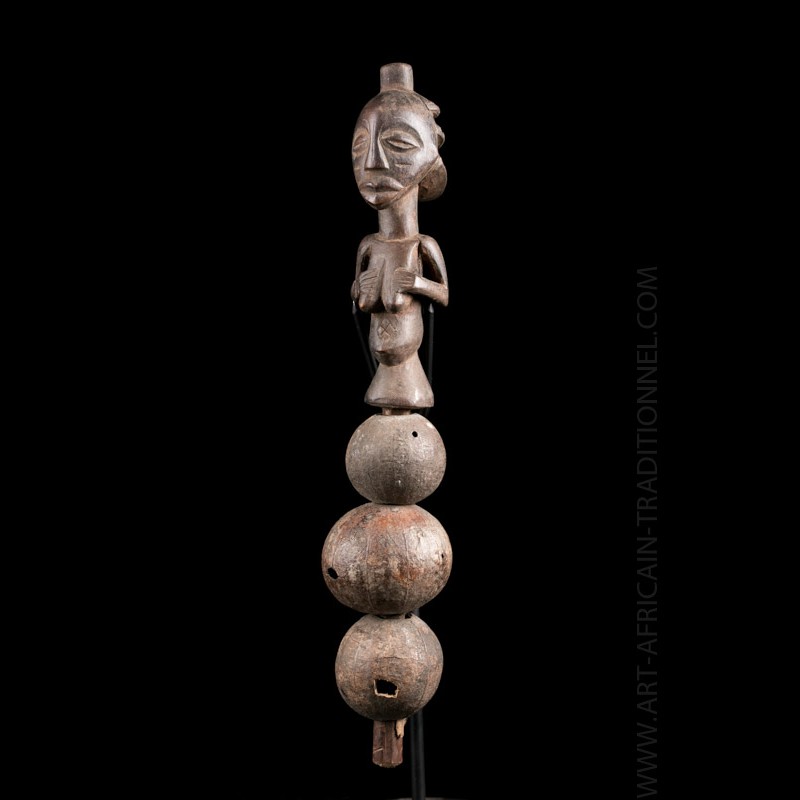  
Luba rattle of Bagabo
In the Luba African art collections, the first rattles appeared in the years 1950-75. These African rattles were used as part of the Bagabo company.
Other experts believe that the Bagabo rattles were used in rituals related to ancestor worship, combined with statues. They may also have been used by soothsayers to summon spirits or ward off bad luck during healing sessions.
The small spheres are always surmounted by a bust or a portrait, often feminine in view of the central place that women occupy in Luba society and which is therefore strongly reflected in the artistic corpus. We can see that this is the case here, and we will note the very specific style of the double-decked headdress allowing it to be attributed to the Shankadi workshop of the masters of the cascading headdress.
Data sheet
Presumed dating

Circa 1950

Size

29 x 5 cm

Ethnic group

Luba / Baluba / Louba

Material(s)

Wood

Country

Democratic Republic of the Congo

Origin

Tribal art collection Belgium

Condition

Excellent
You might also like