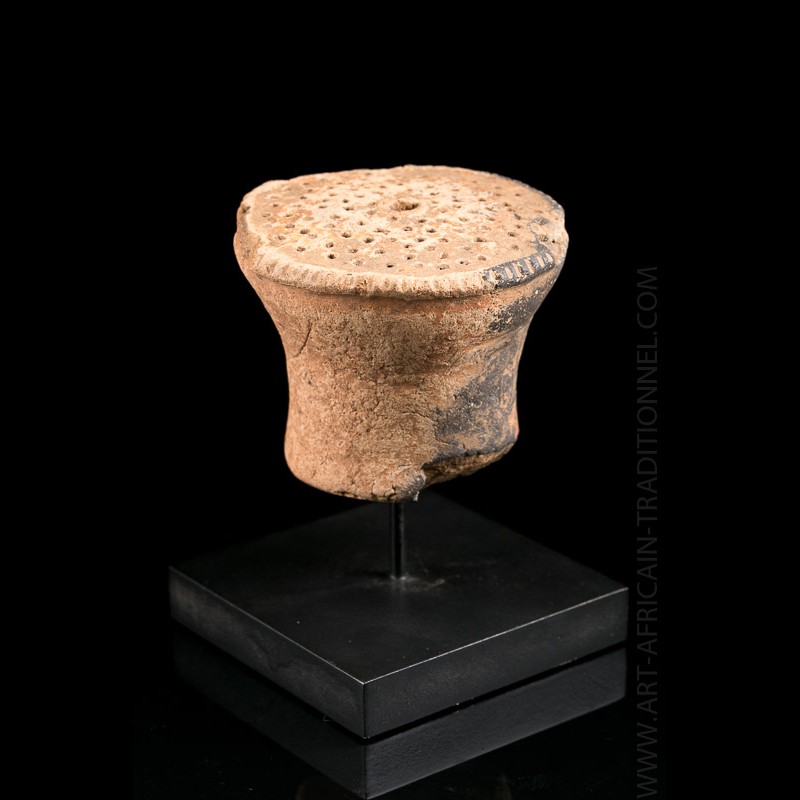  
Bura fragment Niger
This object comes from a collection of African art based in Belgium, a collection formed from the 1960s until today. It contains around a hundred terracotta objects, 80% of which are dated in the laboratory.

Apart from their undeniable great aesthetic value, Bura funeral pottery is of major interest for research into the African past. In a region which has been Islamized for a very long time, they provide us with precise documentation on the pre-Islamic way of life in the savannah areas where a long dry season makes it possible to breed horses.

In Niger, the renowned "village of the dead" of Bura, excavated and dated only in the 1980s, made a valuable contribution to the knowledge of funeral customs in the Niamey region between the 3rd and 13th centuries. The burials were on three floors. Funeral pottery, or jar-coffins, constitute the main floor, more than a meter above complete skeletons, arranged in parallel. The terracotta effigies which surmount the potteries are isolated heads or a fragment or bust, like the one we offer. They probably represent the character, man or woman, buried below.
Data sheet
Presumed dating

Untested

Size

6,5 x 8 cm

Ethnic group

Bura

Material(s)

Terracotta / Ceramic

Country

Niger

Origin

Tribal art collection Belgium

Stand

Included

Condition

Excellent