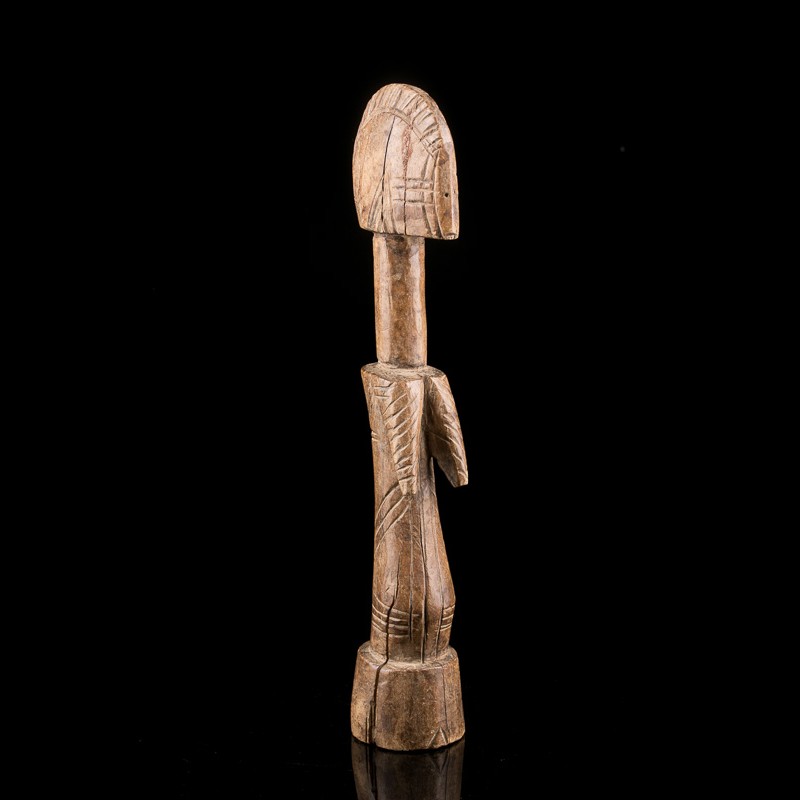  
Mossi Biga doll
Fertility in african tradition
A wood carving of a female rendered in highly abstract form and displaying patina from use. The head is flat and long with a distinctive crest shaped coiffure to the top. The face is small and almost mask-like and consists of drilled eyes and a slit mouth. The long, thick neck rests on small, flat shoulders, below which hang large pendulous breasts. The column shaped body enlarges to the stomach and is engraved with geometric patterns, probably to represent scarification marks. The figure sits on a short conical base.
 
Figures such as this are carved from wood, ivory or bone by blacksmiths who are believed to hold special powers in the community. They are given to girls in the hope that the fertility powers that are held within the figures will be passed on to the girls. They are also carried by women seeking to get pregnant. They are carried in the fold of a garment and are cared for like a real child .
This may be interpreted as a form of sympathetic magic that reassures the spirits that the woman is capable of looking after a real child. Many of the figures are dressed in clothes decorated with cowrie shells, symbols of wealth and fertility, and the figures themselves are often rubbed with palm oil.
Data sheet
Presumed dating

Mid XXth century

Size

29 cm

Ethnic group

Material(s)

Wood

Country

Origin

Tribal art collection France

Condition

Excellent