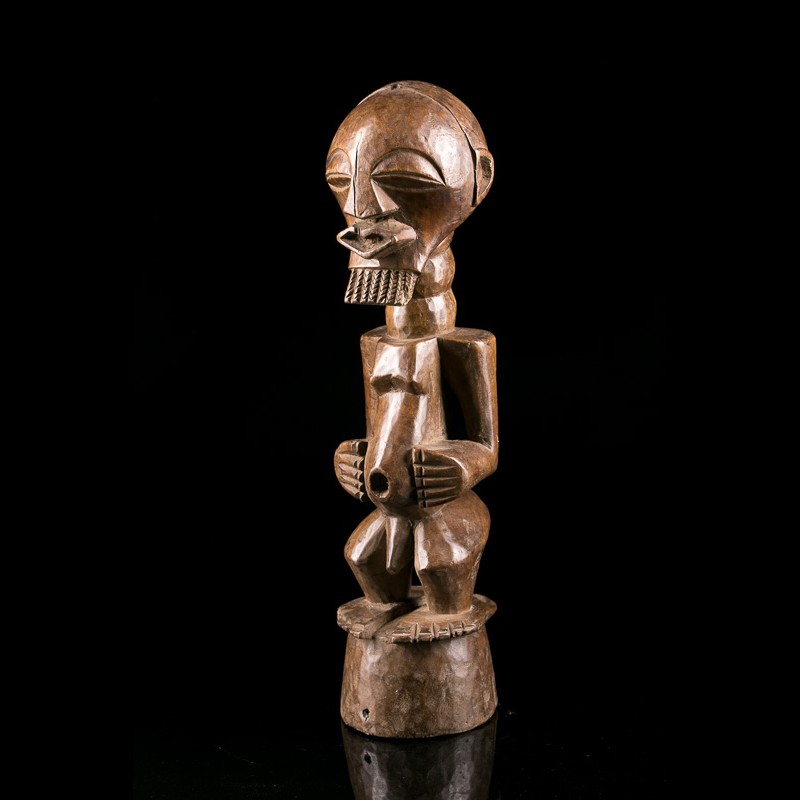  
Songye Nkishi ancestor figure
Masterpiece among the Songye of the DRC
The strong point of this Songye statue is undoubtedly its patina, which naturally differentiates it from late sculptures with a black patina, artificially produced by African craftsmen for the tourist market.  The purity of the patina on the statue we are offering for sale allows us without too much difficulty to date the work to the first part of the 20th century, probably around the time of the Second World War, when this statue was collected in situ by the patriarch of the family who entrusted it to us for sale. 
A wooden figure of a male ancestor carved from a finely grained and beautifully coloured wood and displaying a patina from use. The head is dome shaped and carved with a small cap of receding hair. The face has large half closed eyes with arching brows above and the nose is short and wedge shaped. the mouth projects forward slightly and is heart shaped and open. The square chin has a short beard of individually carved strands of twisted hair. The neck is thick and displays a rounded shape of fat and sits on flat shoulders. The body has fleshy breasts and a large stomach which is hollow to the navel for the insertion of sacred substances. The arms are bent at the elbows with the hands resting on either side of the stomach. The legs are bent at the knees and the feet rest on a conical base. 
Like many African tribal societies the Songye place the veneration of ancestors as central to their beliefs and daily lives. For the purpose of honouring these past members of the community, the Songye create statues through the interaction of a specialist carver and a specialist in ritual activity known as nganga. The Songye believe that their ancestors are more accessible to the community than the more distant deities of their pantheon as the ancestors have had experience of life's problems when they were alive. This immediacy in the community enables bonds and close interaction for the overall wellbeing. They are honoured through offerings of food and drink and are regularly rubbed with oils which produces the unique patina to these pieces. 
Data sheet
Presumed dating

1st half XXth century

Size

36 cm

Ethnic group

Material(s)

Wood

Country

Origin

Tribal art collection Belgium

Condition

Excellent