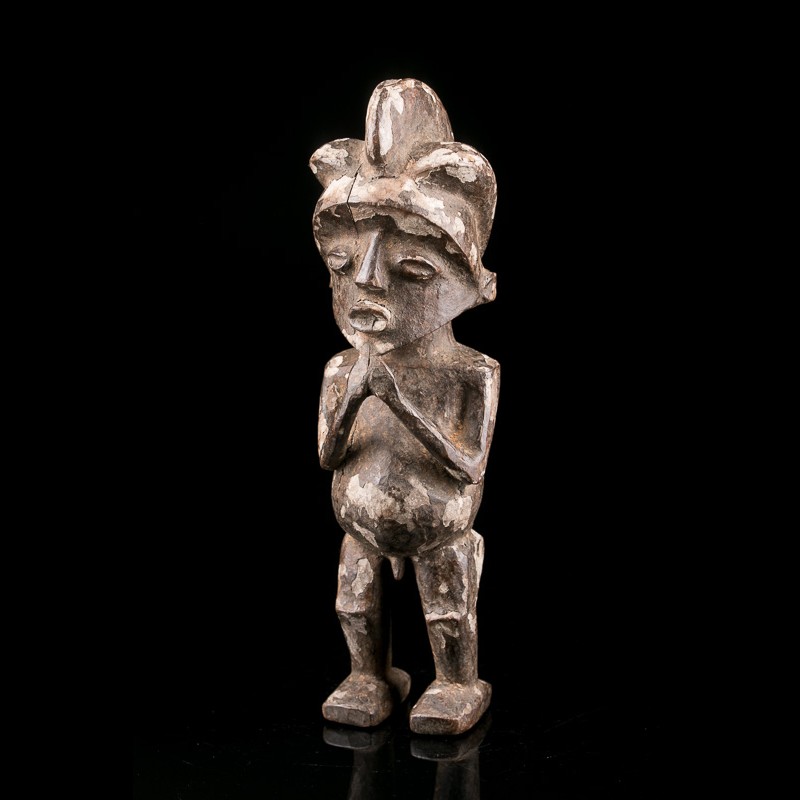  
Hungaan figurine
A wooden figure of a male with the hair forming three stylised crests to the top and side of the head. The face has a prominent brow ridge with small ears, nose, eyes and open mouth. The arms are bent at the elbow and rest on the large belly; the hands are held together under the chin. The legs are slightly bent at the knees with flat, rectangular feet. Mounted on a custom made stand.

In tribal african art, the Hungaan are a related people of the Pende of West Africa. They are mostly farmers and each village is grouped into associations with two or four others, which is headed by a chief who is assisted by elders. The eldest man of each family maintains its lineage objects which are kept in a special hut. These include ancestor skulls and tribal statues, such as this example, to which power enhancing paraphernalia are attached.

Hungaan / Hungana people are located in Democratic Republic of the Congo.
Piece appraised by Mr. Gaunt, expert in tribal art and antiques, United Kingdom (Buxton museum).
Data sheet
Presumed dating

Circa 1940

Size

25,5 cm

Ethnic group

Material(s)

Wood

Country

Origin

Tribal art collection Belgium

Condition

Excellent