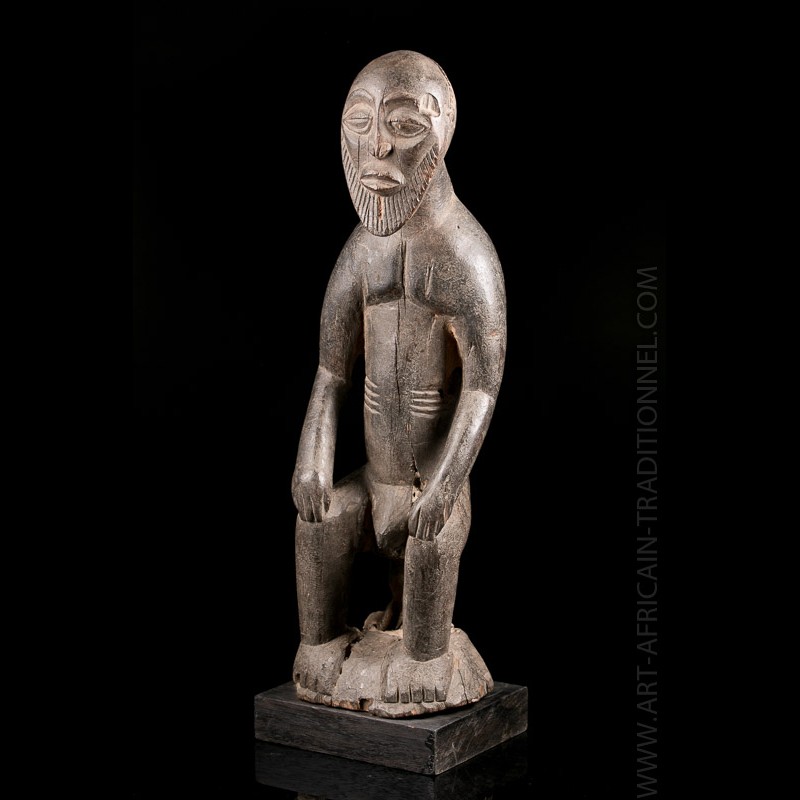  
Hogon figure Dogon
Our gallery of African art presents to you today a superb and ancient statue representing an ancestor carved by a Dogon artist, in Mali. The latter are installed at the foot of the cliffs of Bandiagara and took refuge there historically during the attacks of neighboring ethnic groups. This natural rampart protected them, as well as their Tellem ancestors, for centuries.

Of these, now extinct, the Dogon inherited the cult of ancestors, a very complex cosmogony and also abandoned figures and that we sometimes recognize their arms raised to the sky.

The character here is sitting. His beard testifies to the old man's wisdom, probably a hogon or the man elected by the village to settle disputes. Being chosen to be a hogon was an honor that could not be denied, so it happened that the chosen man would choose exile; indeed, this title came with a whole series of obligations and prohibitions. Among these, the fact of having to live outside the village, in an isolated hut and avoid any physical contact with other individuals. In return, all the needs of the hogon were provided by the community until his death.
Data sheet
Presumed dating

Circa 1920

Size

47 x 14,5 cm

Ethnic group

Dogon

Material(s)

Wood

Country

Mali

Origin

Tribal art collection Belgium

Stand

Included

Condition

Excellent
You might also like