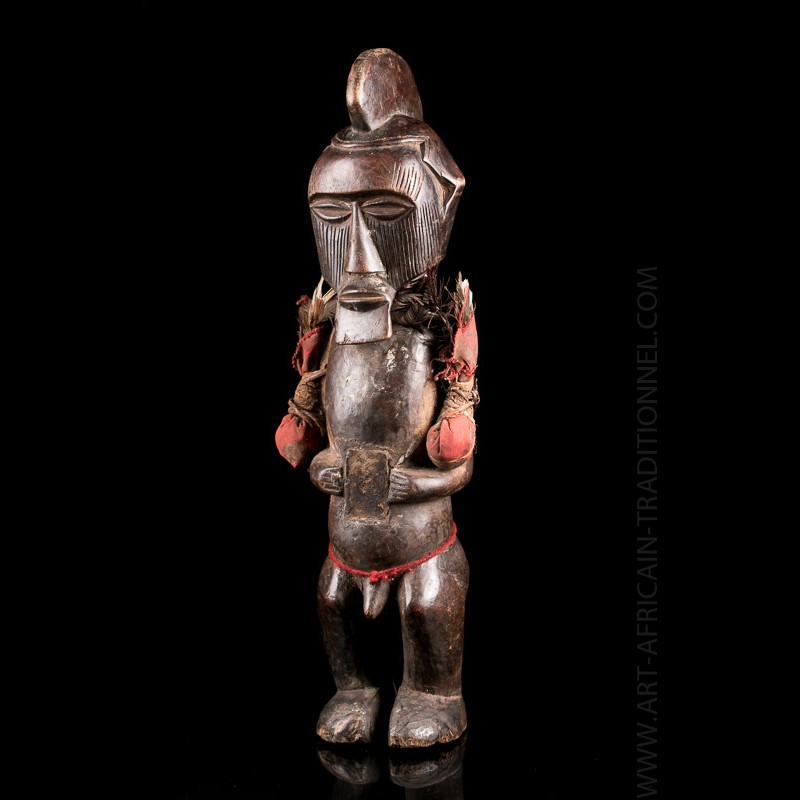  
Teke Butti Figure - SOLD OUT
The statues and figurines sculpted by Teke artists are characterized by slightly bent legs, a torso framed by arms bent at right angles and an enlarged head with typical linear facial scarifications and a trapezoidal beard. These elements are present here as we can see.
Their height varies between 15 and 80 cm. These pieces can be used for an individual or for the whole community.

The shape of the magic substances attached to the body of the statue often indicates its function. For example, the figures known as Mutinu Brnamba are covered with a cylindrical Bilongo and are used to help women during pregnancy. The Matornba figurines carry a Bilongo in the shape of a barrel and have apotropaic functions. Butti figurines representing ancestors are associated with magic substances, in particular the nails or hair of a deceased person, and are kept in special huts. With their shiny patina, they are generally decorated with a metal necklace attesting to the importance of the deceased ancestor.
Other figures known as Iteo symbolize the spirit of happiness and are characterized by a whitish earth cone surrounding their body (a) and are kept within families. During hunting or trading expeditions, the Teke sometimes wear a small anthropomorphic fetish.
Ventral plate translating the magic load, and small loads contained in sachets out of fabrics placed close to the shoulders. Piece of rare quality very well preserved.
Data sheet
Presumed dating

1st half XXth century

Size

42 x 13 cm

Ethnic group

Material(s)

Wood, accessories

Country

Origin

Tribal art collection Belgium

Condition

Excellent