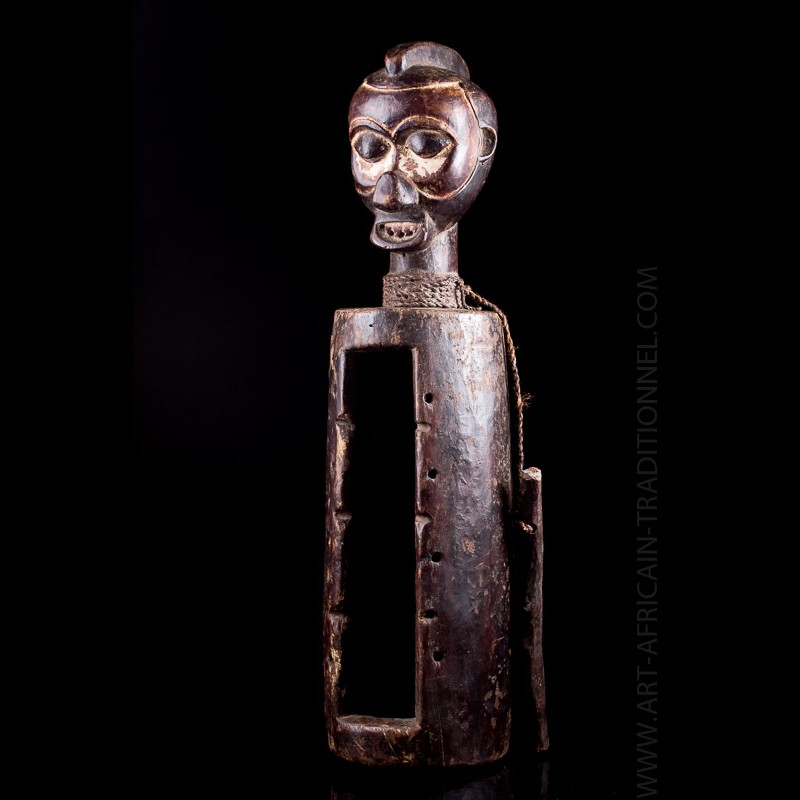  
N'koku Ngoombu slit drum - Yaka - SOLD OUT
Musical instruments and traditional African art Yaka
The Bayaka address a diviner (Ngoombu) when they seek to identify the cause of an illness or misfortune.
Ngoombu is responsible for determining the cause and proposing a solution or at least recommendations.
An N'koku Ngoombu slit drum (also called n-Kookwa Ngoombu) is an object involved in the rite of divination. During the rite, the diviner will tap the instrument with a stick (here present) to invoke the spiritual forces. The sounds will also accompany the words of the diviner to translate the cause of the misfortune that affected the client.
This exceptional drum wears a yaka style head with a rolled up nose.
Rare object of superb quality.
An object of this type is exposed to MET (NY) inv. 1983.30 ex Charles Van Lierde.
Data sheet
Presumed dating

Circa 1930

Size

58 x 13 cm

Expert's estimate

850 - 950 €

Ethnic group

Material(s)

Wood

Country

Origin

Tribal art collection Belgium
You might also like