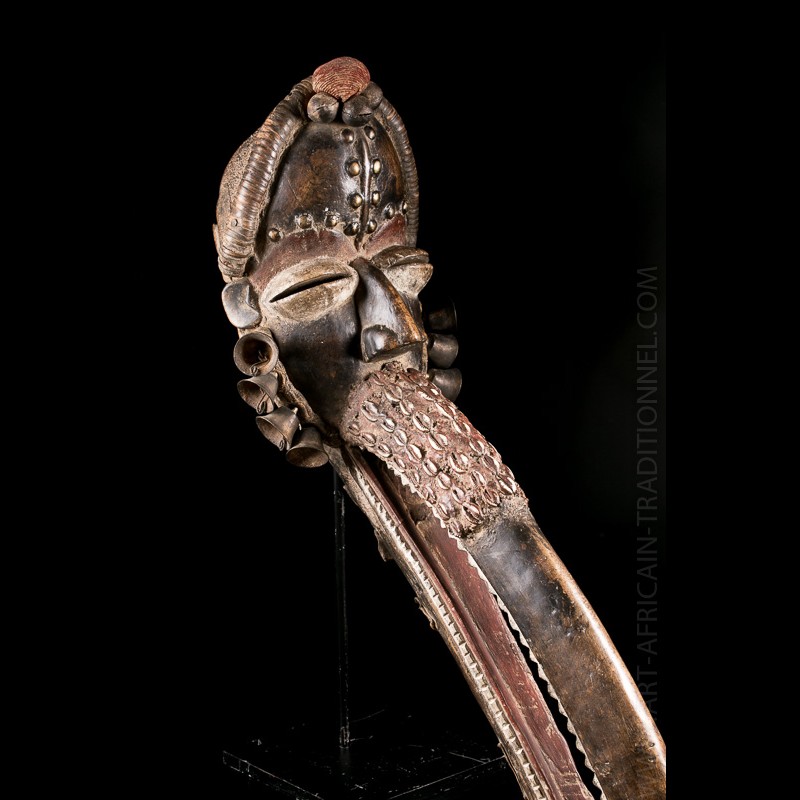  
Dan Maou Gagon mask - SOLD OUT
Exceptional African mask of the Dan ethnic group. A remarkable element on this American collector's item, a spout of impressive dimensions projects forward. This element illustrating the woodpecker bird is grafted on an anthropomorphic facies. Masks of this type are specific to the Dan Maou sub-group. These specific masks are known under the name "Gagon".

In African art, Dan masks have a unique style that is easily identifiable: the features are simple and powerful. The flat face has protruding elements such as the mouth, the eyes sometimes gaping and circular, sometimes bulging in coffee beans, sometimes almost closed. The forehead bulges out and overhangs the face.

Sometimes reduced to their simplest powerful expression, sometimes adorned, Dan masks embody the spirits of the bush. This one carries important elements such as brass upholstery nails, which testify to the great antiquity of the piece. A sagittal line separates the forehead in half and extends the bridge of the nose. The headdress is still present in the form of a braided roll. On the lower face, as a beard, a corole of metal bells.

The expression is enhanced by the addition of white and red pigments on the very dark patina obtained with the help of palm oil libations. The proximal part of the beak is decorated with numerous cowries testifying to the wealth of its sponsor. Indeed, cowries were used as currency in Côte d'Ivoire.
The mouthpiece in perfect condition (no restoration) is finely carved with remarkable dentition.

Finally, the internal face of the mask shows impressive wear and beautiful traces of portage resulting from long years of use of this mask without the framework of the koma association which watches over the village during the night and, like the flight of birds. ubiquitous.
Data sheet
Presumed dating

Circa 1930

Size

+/- 101 cm

Ethnic group

Material(s)

Wood, accessories

Country

Origin

Tribal art collection France

Condition

Vintage