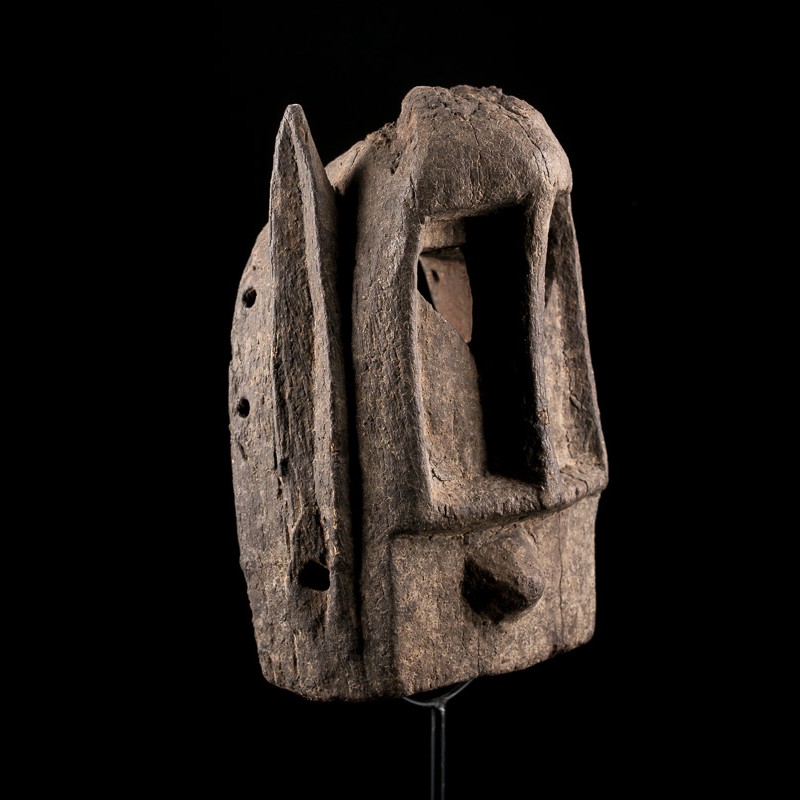  
Dogon Dege Mask
African art from the Dogon country
This mask with a primitive and animal appearance was collected in an undetermined village on the Bandiagara escarpment in the 1960s. On either side of this mask the nasal bridge is hollowed out by two large rectangular cavities, at the bottom of which are provided two openings for the eyes. Thanks to their reduced dimensions; these orifices produce a remarkable effect of depth. The mouth and ears are discreetly represented in the curvatures of the shapes.

On the occasion of a dama, mourning party, Marcel Griaule photographed a Dogon dancer wearing a very similar mask. He also gave details of his choreography, while pointing out that no part of the mythical story accounts for the invention of this mask called the ugly male of the bush.


Choreography:

The dancer's costume includes, in addition to the usual breeches, a collar of long black fibers which fall to the knees in front and behind, bracelets and ankle ornaments also made of black fibers. Leaning on a stick, the wearer of the black monkey mask stands away from the dance floor and sits down in a melancholy pose. His mimicry, which is not accompanied by any specific song, recalls that of the hare: he walks forward crossing his legs, squats resignedly, lies on his side when someone shouts to him: "here is the dog!" /

Origin :

A large part of the objects in this collection were given as a donation to the Geneva Museum of Ethnography in the 1980s. We are committed to providing detailed information on request.
Data sheet
Presumed dating

1st half XXth century

Size

28 cm

Ethnic group

Material(s)

Wood

Country

Origin

Condition

Very good
You might also like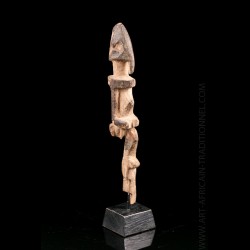 Regular price
€870.00
-30%
Price
€609.00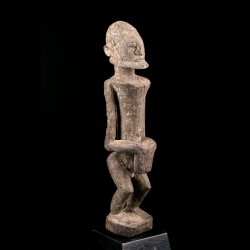 Regular price
€1,980.00
-€400.00
Price
€1,580.00