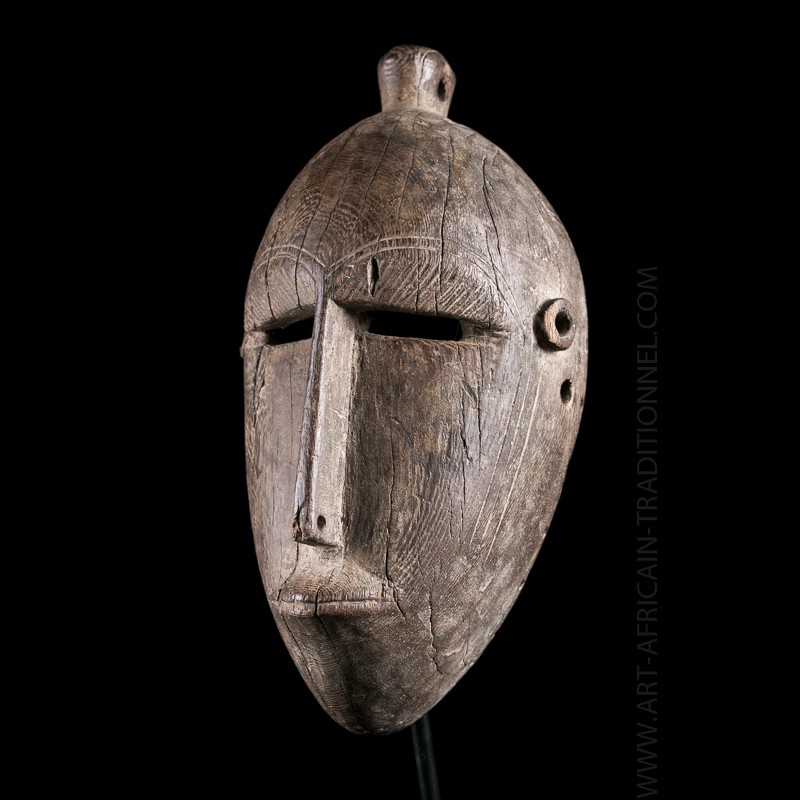  
Bambara mask of Kore
African mask of Mali
In traditional Bamana culture, there are several major initiatory societies. They teach understanding of everything about the nature and destiny of the human being.Koré is the ultimate example. It is the initiatory society to which one only has access after a long apprenticeship that aims to rid the wanzo impurity. Korah itself includes eight classes of insiders symbolically linked to social categories, each with its own emblem. Traditional Bambara artifacts are strongly related to agrarian rites. This authentic mask has a beautiful natural patina revealing the veins of old wood.
Korah is an initiatory society focused on the construction of the masculine identity but aims to understand the relation to nature and what touches human destiny. This type of mask was worn when the aspirants returned to their village after their initiation in the forest. The facies is characteristic: the nose is straight and long, the features are sober. Finely carved scarification adorns the perimeter of the face. At the back of the mask, there is a series of perforations to fix elements camouflaging the wearer.

The Bambara believe in the existence of spiritual forces that bring into action individuals who can create an atmosphere of harmony, prosperity and well-being. They also have a very complex cosmogony. The initiation is practiced within associations of men more or less present according to the villages: the n'tomo, the komo which governs the community life, the nama, the kono, which regulates the attacks on the morality, korè and the tyi wara, which brings together young farmers. These societies run by some elders have a political, economic, medical and social control over the community. The complex symbolic system of Bambara is reflected in an abundant production, related to ritual functions and varying aesthetic qualities.
Data sheet
Presumed dating

1st half XXth century

Size

29 x 15 cm

Ethnic group

Material(s)

Wood

Country

Origin

Tribal art collection France
Customers who bought this product also bought: