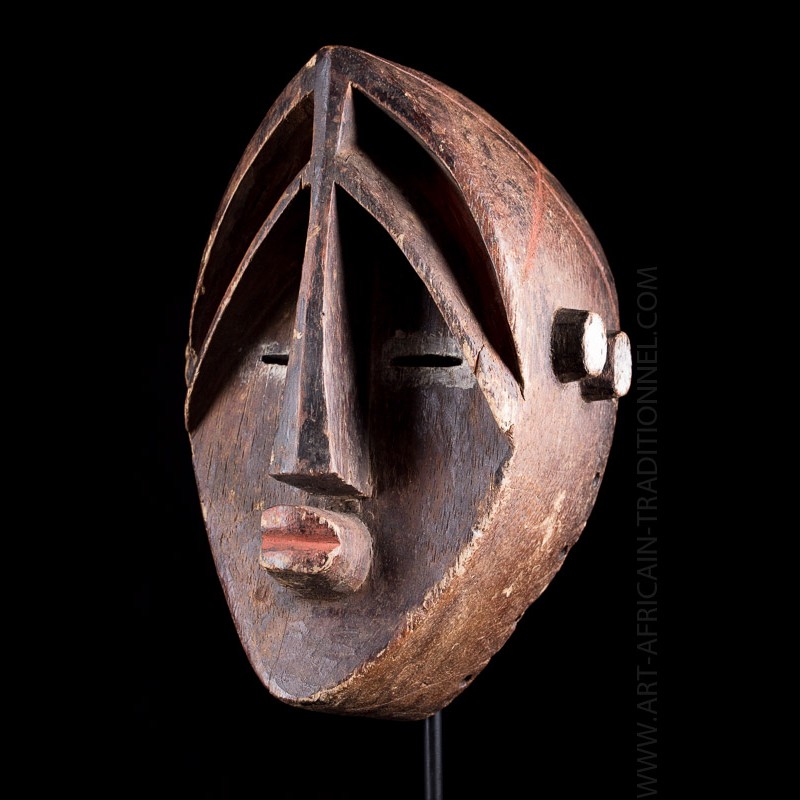  
Mvondo Initiation Mask - Lwalwa - Congo DRC - SOLD OUT
Cubism in traditional African art
The traditional mask plays an important role among the Lwalwa, living near the Kasai River, border between Angola and R. D. Congo.
Carved in mulela wood and red with the mukula fruit of Bixa Orcellana, there are four types. Two male masks nkaki and mvondo, are almost identical, they have in common with the mushika female mask a long thin nose in a lenticular face.
The fourth African mask, shifola, has a short and wide nose. The mushika also has a carved ridge.
Sculptors are a privileged caste of the community - a successful sculptor can accumulate wealth, become a leader and organize dances - and the Lwalwa are renowned dancers.
During one of them called balongo, young men from 15 to 20 years old perform with the sound of two drums and two xylophones a vigorous dance ended by a series of somersaults. Masks are worn after an unsuccessful hunt to appease the spirits of the forest, and during initiatory rites.
The African masks lwalwa and in particular this one have a remarkable cubist aspect which will marry perfectly with objects of contemporary art.
This authentic mask Mvondo / Mfondo the particular typology given its double arcade will delight fans of these masks that exchange at a golden price to have inspired the greatest Western artists.
Data sheet
Presumed dating

1st half XXth century

Size

26 x 17 cm

Ethnic group

Lwalwa

Material(s)

Wood

Country

Democratic Republic of the Congo

Origin

Tribal art collection Belgium