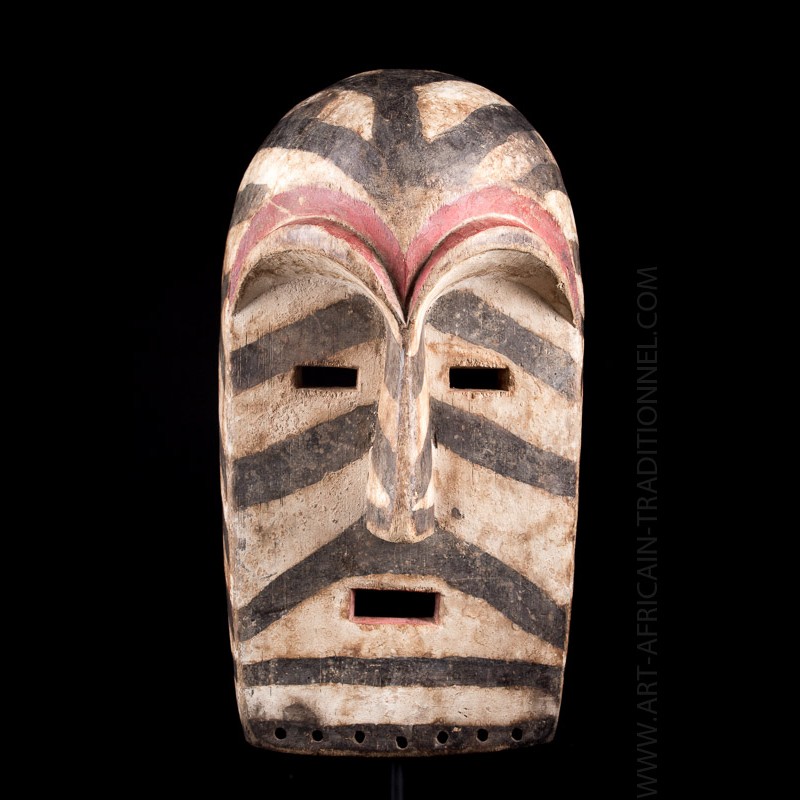  
Masque Ngil Fang
Remarkable African mask of Fang or Bulu
Linked to the powerful rites of Ngil of Gabon and Rio Muni, the traditional masks of Ngil of South-Cameroon are extremely rare.
Sharing with the emblematic white masks of the Fang their facies elongated, they differ in their quadrangular base.
The rigor of the form stretching in two dimensions is accentuated by that of the openings meaning the eyes and the mouth, and by the force of the features. The radicality of the geometric design meets the abstract beauty of pictorial decoration, alternating white (kaolin) and black (charcoal and palm oil) stripes.

A copy of the same style
Ex LIEUTENANT ERNST VON RABEN
Ex MUSEUM FÜR VÖLKERKUNDE, BERLIN
Ex LINDEN MUSEUM, STUTTGART
Ex HARVEY MENIST, AMSTERDAM / NEW YORK
has been proposed in a very famous auction room, estimated at € 30,000 to € 50,000 in 2012.
Data sheet
Presumed dating

1st half XXth century

Size

Expert's estimate

Ethnic group

Material(s)

Wood

Country

Origin

Tribal art collection France

Condition

Excellent
Customers who bought this product also bought: