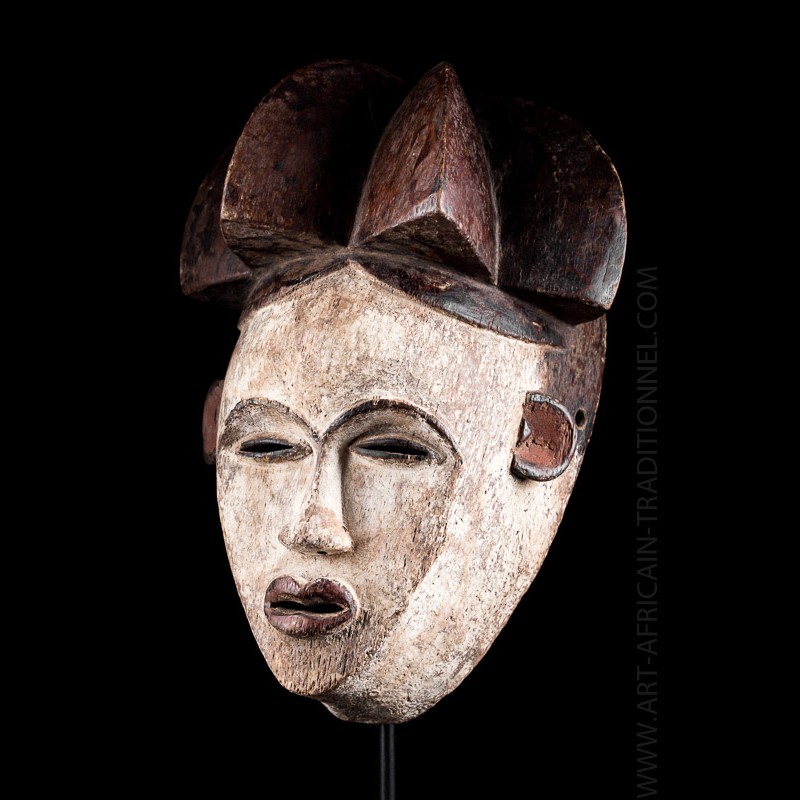  
Ancestral mask Tsogho Vuvi - SOLD OUT
The use of kaolin in large quantities is quite common among sculptors in Gabon. We find in fact on many masks among Fang, Punu, Kwele, etc.
In addition, we observe a fairly geometric style with simplified features.
The headdress of this mask, devoid of kaolin and carved in zigzags shows a certain influence Lumbo / Lumbu. Nevertheless, the flat face with simplified and detailed features allows to attribute this African mask to Tsogho Vuvi.
These are established in south-central Gabon.
These are ethnic groups living in the forest. The masks are here to ensure the link between the ancestral past and the present. He is both an image and a symbol, a referent of identity in the service of education. The mask is also a means of communication with the spirits of the deceased, an intermediary between the earth and the hereafter. It can not be separated from its environment when it comes out at night to the sound of the drum, in the light of the torches.
The mask is at the center of the secret societies (mwiri, okukwe and bwiti) which are responsible for tribal affairs (both social and religious) and the maintenance of public order.
Data sheet
Presumed dating

1st half XXth century

Size

31 x 22 cm

Ethnic group

Vouvi / Vuvi / Pove

Material(s)

Wood, kaolin

Country

Gabon

Origin

Tribal art collection Belgium

Condition

Excellent
You might also like