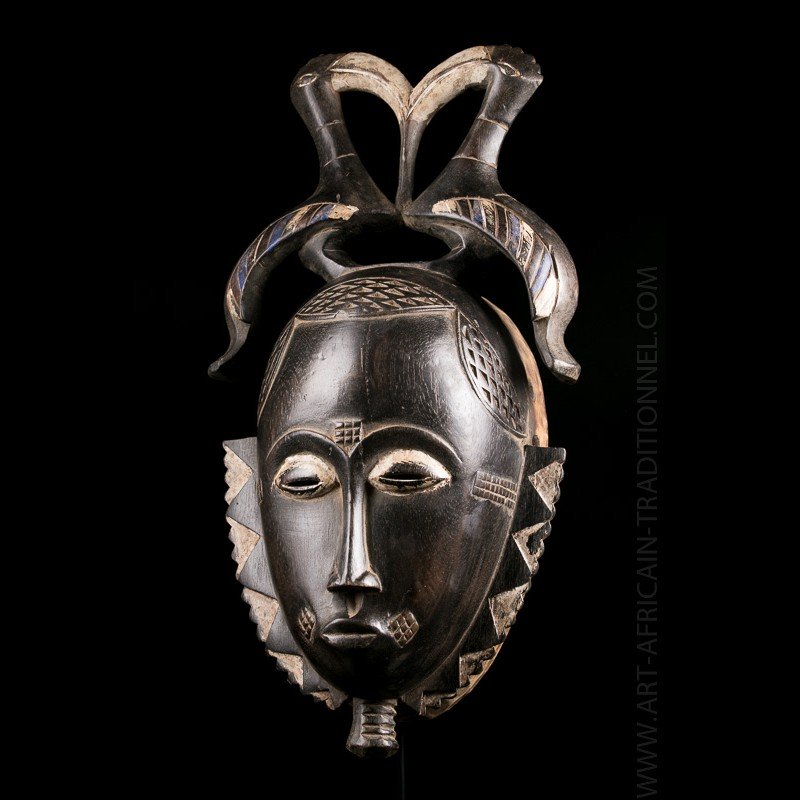  
Yaoure mask of the Lo - SOLD OUT
In the Baoulé communities, traditional mblo shows feature masked dancers that mimic familiar subjects, ranging from animals to human caricatures.

The African art dances Mblo end with a performance that pays tribute to the most admired member of the community. The honoree is referenced by a mask designed as his "double" or "name" artistic.
Although such works may represent men or women, they have often been commissioned by a man to honor a relative or created by a sculptor to pay tribute to the dancing talents and beauty of a particular woman.
Because of their importance, only the best dancers are allowed to wear portrait masks during shows. On such occasions, it is necessary that the subject of the portrait, or "double", be present to accompany it.
Triple feature yawned headdress. Double bird on the summit. Beautiful beard in corolla.
Data sheet
Presumed dating

1st half XXth century

Size

48 x 26 cm

Ethnic group

Material(s)

Wood

Country

Origin

Tribal art collection France

Condition

Excellent