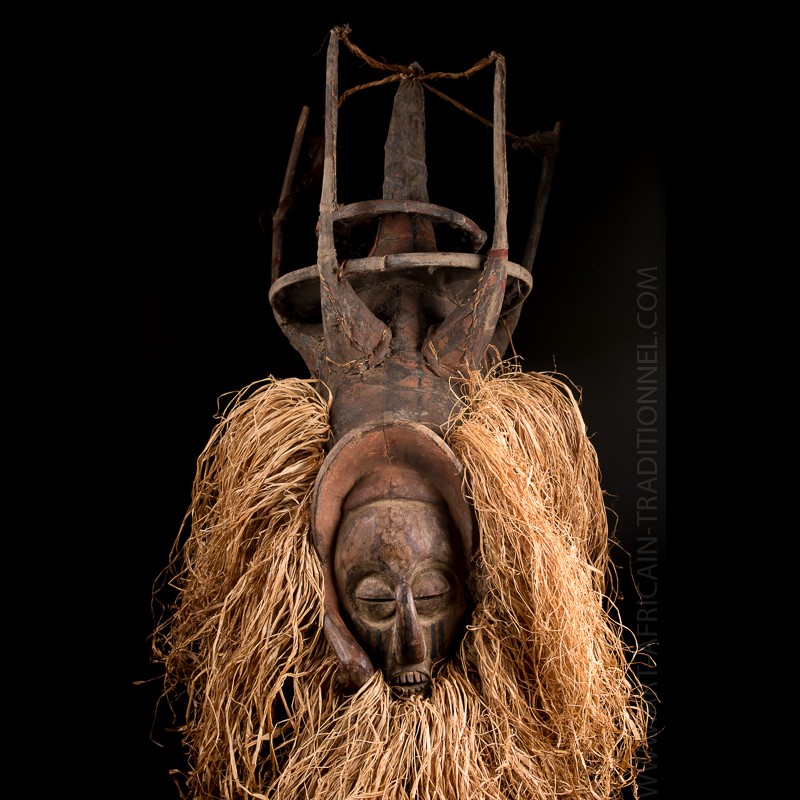  
Yaka Ndeemba Kholuka mask - SOLD OUT
Rare Yaka African mask (southern Congo). The yaka are close to the Suku and Holo.
Collections of such masks are on display at the Museum of Tervuren. Missing growth on the face see photos.
Classically, the nose is found and very long. These brightly decorated masks are used to mark the transition to adulthood. during the initiation period, which can last a year or more, the adolescents are separated from the village and subjected to a series of tests, including circumcision, designed to measure their strength and courage.
These tests often result in the symbolic death of boys as children and rebirth as men.
Among the Yaka and Suku peoples, the conclusion of the mukanda - which comes to manhood rites - is accompanied by representations of kholuka masks.
The imagery above these masks translates the lyrics of songs that emphasize gender differences into a visual form. Figurative representations of humans and animals ridicule women and celebrate male virility. Contemporary works reinforce generational continuity and male solidarity by incorporating the ashes of masks danced on the occasion of the previous mukanda.
Data sheet
Presumed dating

1st half XXth century

Size

71 cm (mask only)

Ethnic group

Material(s)

Wood, raphia

Country

Origin

Private collection Emile T., Bruxelles, Belgium

Condition

Very good