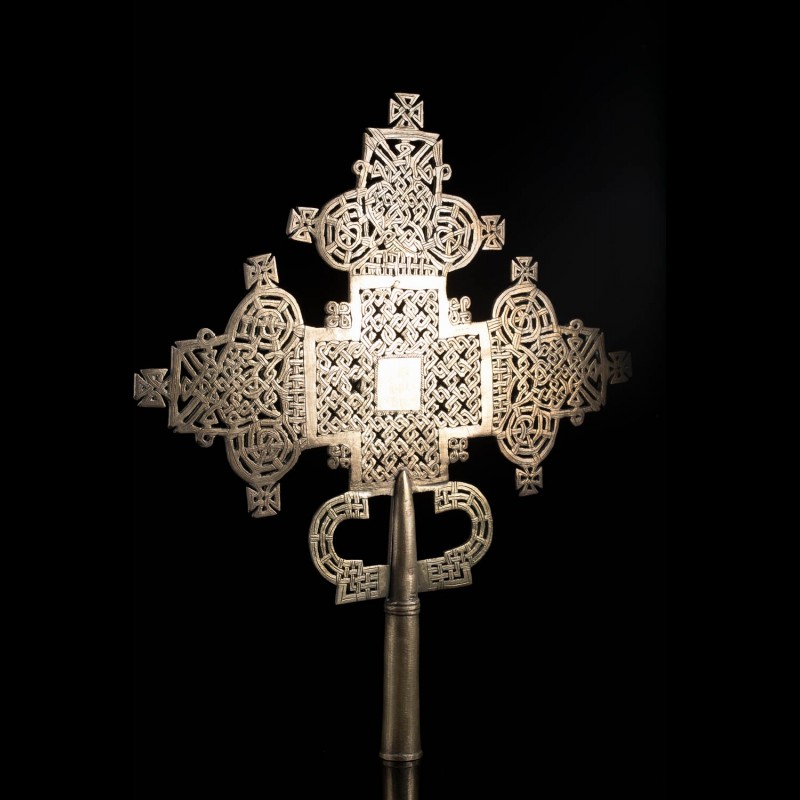  
Large christian Gondar cross Ethiopia - SOLD OUT
The Ethiopian cross is an Ethiopian religious motif in the shape of a cross. Its importance in Ethiopian culture is explained by the orthodox Christian character of the country. It would be more accurate to speak of "Ethiopian crosses" because there are many forms depending on the region or the city in which we are located.The three main types of cross are: the Lalibela cross, the Gondar cross and the cross of Axum.
The size of the crosses may vary from the simple pendant to the imposing processional cross. It is a central motif in the decorations of Ethiopian art in murals and manuscripts. The oldest crosses are often made of iron, copper, bronze or precious metal. Those before the 15th are processional crosses, characterized by a shaft that allows to adapt a handle to transport it during processions. The bronze crosses were cast by the lost wax process.
The crosses are also present in the manuscripts, usually in full page, interlacing with green, yellow and red strands fill them. It was from the 14th century that a new style of cross made its appearance, the decor is entirely ornamental and the intertwining takes a central place. The size of the crosses increases, the branches widen and are enclosed in a halo of square shape, and no longer circular or quadrilobed as before. Processional crosses sometimes include icons and representations of biblical characters. The pattern of the cross is also depicted on the traditional clothing of some Ethiopian peoples.
This rare authentic African object is offered by our art gallery, the reference in Belgium and France.
Origin : gathered in situDating : 1930'sSize : 49 x 42 cmMaterial : bronze
Data sheet
Presumed dating

1st half XXth century

Size

Material(s)

Bronze

Country

Origin

Tribal art collection Belgium