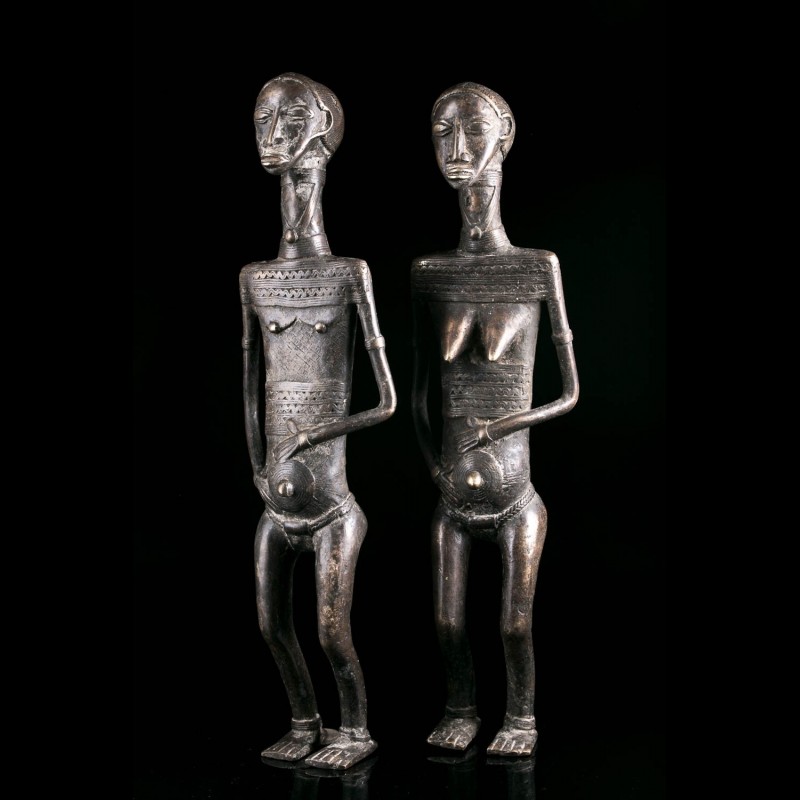  
Primitive couple - Dogon - Mali
Bronze work in traditional African art Dogon
The Dogon are a people settled in Mali in the plain at the foot of the cliffs of Bandiagara, a 300 meter high rock band stretching for 200 kilometers. Their statuary is famous in African art. While most of their pieces are masks and wooden statues, large quantities of slag have been found in some villages, attesting to the large number of bronze and iron pieces produced.
Among the Dogon, we find the theme of the primordial couple, especially through this pair of statues. The stylistic influences are noticeable in the region, and it is not surprising to find Dogon pieces similar in some respects to Djenneké, Tellem and Toloy objects of art.
This pair of African bronzes is offered at a very advantageous price by our gallery, well below the estimate made by the experts of the Auction House deemed Catawiki.
Data sheet
Presumed dating

1st half XXth century

Size

Expert's estimate

Material(s)

Bronze

Country

Origin

Tribal art collection France
You might also like
Regular price
€740.00
-20%
Price
€592.00