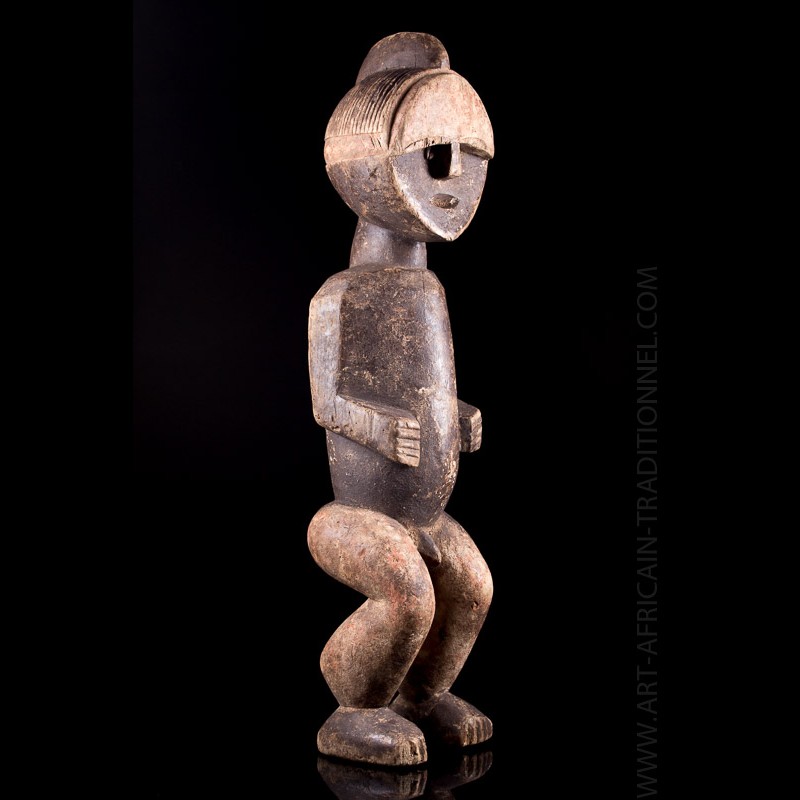  
Mbete Reliquary Statue - SOLD OUT
The reliquary statues of Mbede also called Mbete, Ambete (subgroup Kota) has a dorsal cavity as it is the case here, arranged in the thickness of the trunk and closed by a flap attached by plant links. Here, the shutter and its links are gone, the statue was desecrated after use.
This cavity was a reliquary cache to preserve fragments of human and animal bones as well as magic ingredients.
The statue itself is an ancestor, here male. We find in the pace of the room the classic position of Byeri guardians of the Fang, compact body, arms flexed along the body, legs also bent.
The common point of reliquaries Mbede is the headdress with a sagittal ridge.
The face is very expressive here: the mouth is embellished with iron teeth, eyes reinforced by cowries. This disturbing expression was likely intended to ward off evil spirits and thus to watch over the remains of the deceased.
Data sheet
Presumed dating

1st half XXth century

Size

63 x 13 cm

Expert's estimate

Ethnic group

Material(s)

Wood, accessories

Country

Origin

Tribal art collection France