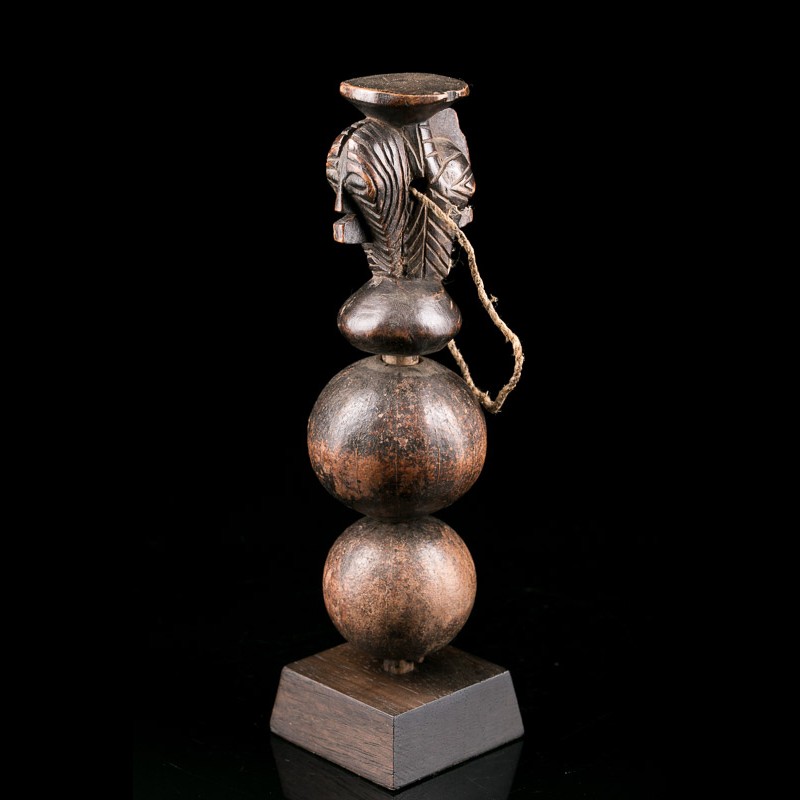  
Songye janus rattle
A wooden tribal art rattle with the handle carved in the form of two opposed heads, each with an elongated face carved with a series of striated lines to the entire surface. There is a diamond pattern to the forehead possibly representing a scarification mark. The eyes are almond shaped and the nose is a short wedge shape with projecting square shaped mouth. To the top of each head is a cup shaped headdress. The body of the rattle is formed of two hollow spheres with beads inside to make the sound when shaken. Mounted on a custom made stand.

The exact function of these african rattles has been debated but it is thought that were used in one of three religious ceremonies, in the Bagabo secret society. Other scholars suggest that since the rattles appeared in the art market in the early 1970s, at the same time as the ancestral statues, they could have been used in rituals pertaining to the cults connected with the worship of the ancestral statues.
The rattles may also have been used by diviners in healing the sick, by evoking spirits, or by dispelling bad spirits from the body of their patients. The rattles display the same artistic features as the statues that the Songye produce, which is an expression of ideal beauty.
Old piece appraised by Mr. Gaunt in charge of ethnographic collections at the Buxton Museum, United Kingdom. Ref SQ3166819
Support is included.
Data sheet
Presumed dating

1st half XXth century

Size

21 cm

Ethnic group

Material(s)

Wood

Country

Origin

Tribal art collection Belgium

Stand

Included

Condition

Excellent
You might also like