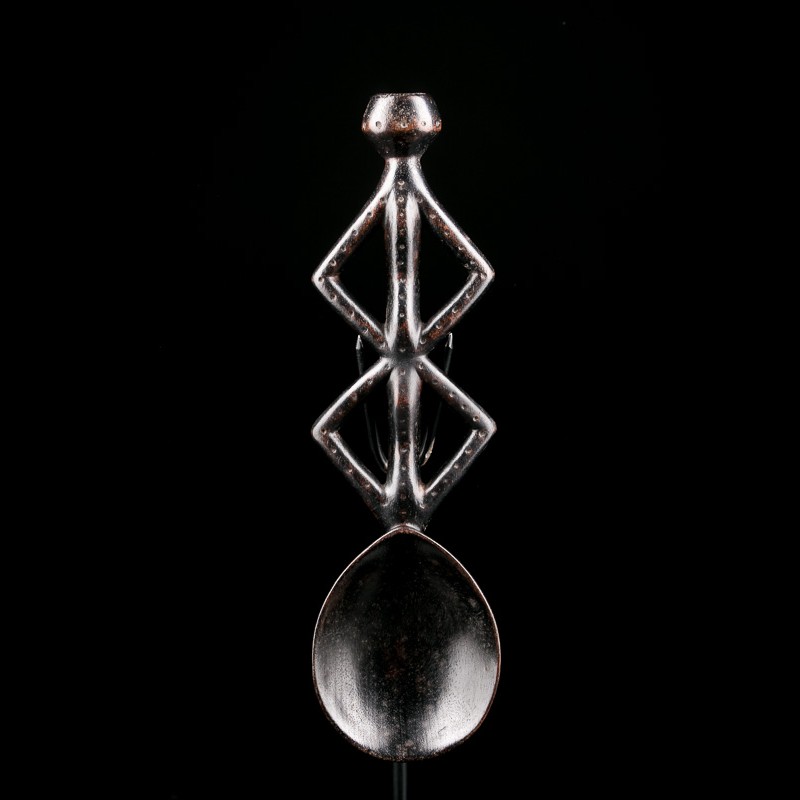  
Lega Kalukili spoon
Masengo: the sacred African art objects of the Bwami
In the Lega tradition, the Bwami company is omnipresent. It can be defined as a school of wisdom and knowledge guaranteeing peace and social cohesion. This secret initiatory society was divided into male and female ranks. For teaching Lega moral and social values, initiates used many meaningful objects: masks, statuettes, spoons, etc. carved from wood, ivory or bone.

These sacred objects are gathered under the term Masengo (sing. Isengo), a term identical to that which expresses their intrinsic strength, their magical power.

Among these works of art, Kalukili spoons such as this one, sometimes in wood, sometimes in ivory or bone. It should be noted that the bone copies are less frequent because of their more difficult conservation. These spoons had only a ritual function within the Bwami, they are not objects with a practical daily role.

This spoon intervened as follows: during an episode of an individual's accession to the yananio rank, two masked initiators placed each other this utensil in the shower, thereby symbolizing the administration of the ordeal poison that was inflicted on those suspected of witchcraft. Formerly, one could decide to save the culprit, victim of this drug, by giving him a cure. The spoons also symbolize both the taking of the poison and that of the antidote.

The handles of these spoons are usually crenellated or wavy, sometimes bearing figurative representations or perforations.
Data sheet
Presumed dating

Circa 1940

Size

24 cm

Ethnic group

Material(s)

Wood

Country

Origin

Tribal art collection Belgium

Condition

Excellent
You might also like