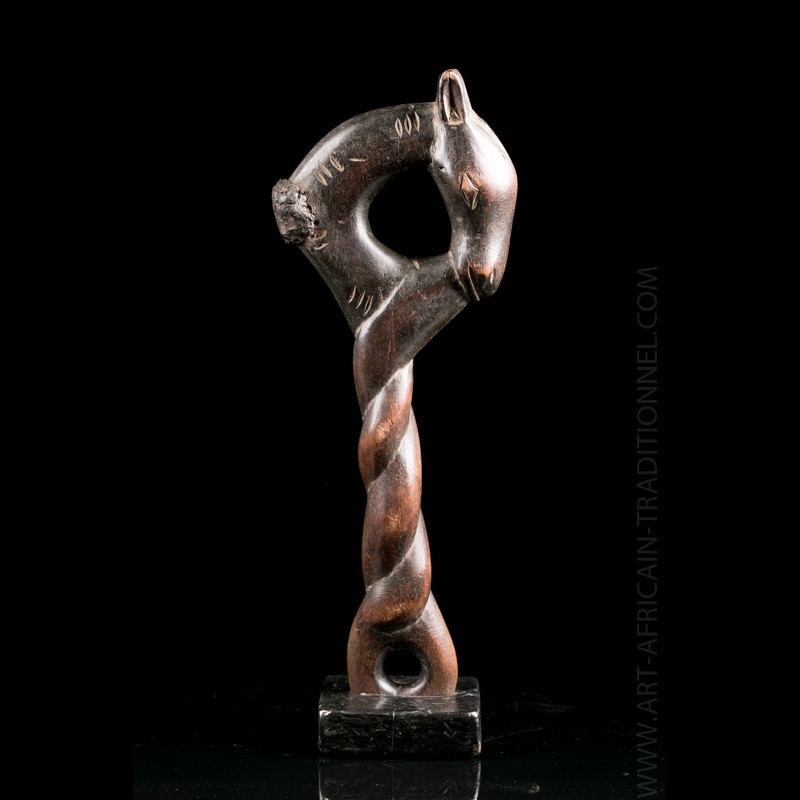  
Figurative Gong Hammer - Baoule - Lalwle Waka
In African art, the Baule use several objects of divination.
In the ceremonies during which the soothsayers got into trance, when the which spirits possessed them talked through them, they would use ritual instruments, plates made of clay, rattles, and especially gongs in metal, which they would hit with a decorated hammer named lalwe waka, to "awake" the spirits from their torpor and to make these leave the bush.

The more the sorcerer is renowned, the more his religious equipment was decorated.
The zoomorphic figure of this figurine is not a superficial addition to the functional part of the instrument, it is an integral part of it. Its relative hieratic aspect harmonises with the half-circle of the hammer in which it is placed. The whole comes in the form of a magnificent twist.
Data sheet
Presumed dating

1st half XXth century

Size

24 x 9 cm

Expert's estimate

485 - 550 €

Ethnic group

Material(s)

Wood

Country

Origin

Tribal art collection France

Condition

Excellent