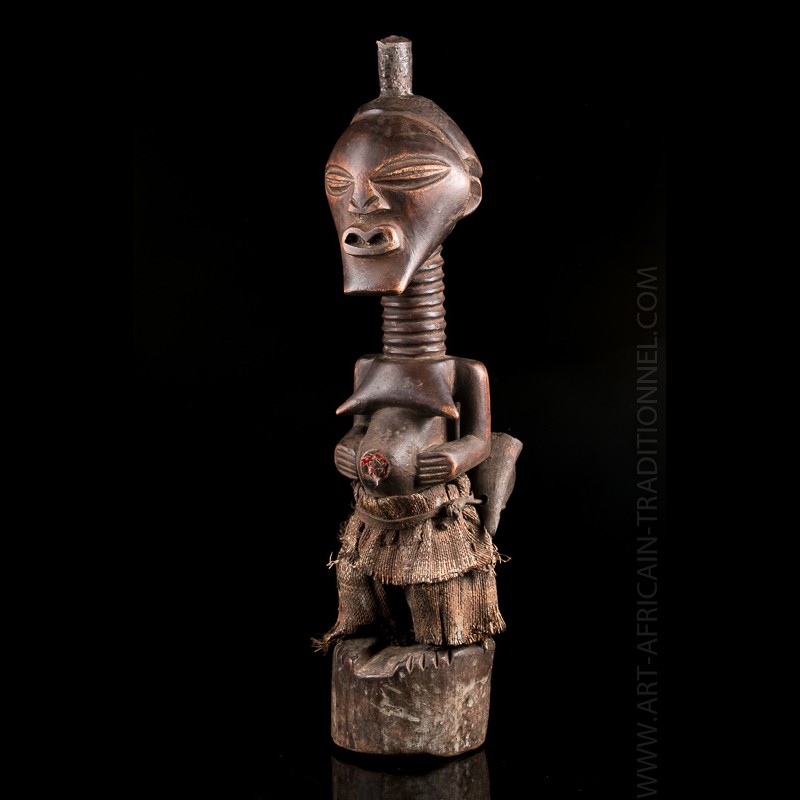  
Nkisi Songye figure
Beautiful and true African art fetish Songye from Belgian private collection.
Presence of a pretty summit horn inserted upside down, hard face with drawn eyes giving off character. The ringed neck sufficiently gives an impression of height which gives it a beautiful finesse of sculpture.
Beautiful posture of the shoulders, the breasts in points, classic position of the hands along the abdomen, surrounding the magic load placed traditionally.
A vintage loincloth surrounds the size of this statue, which is placed on a round base with a patina of use.

These so-called power figures range from a few centimeters high to sometimes over a meter for the largest. Depending on their size, they were intended for individual or collective protection.
Data sheet
Presumed dating

Circa 1960

Size

49 x 10 cm (horn included)

Expert's estimate

385 - 425 €

Ethnic group

Songye / Basongye

Material(s)

Wood, accessories

Country

Democratic Republic of the Congo

Origin

Tribal art collection Belgium

Condition

Excellent