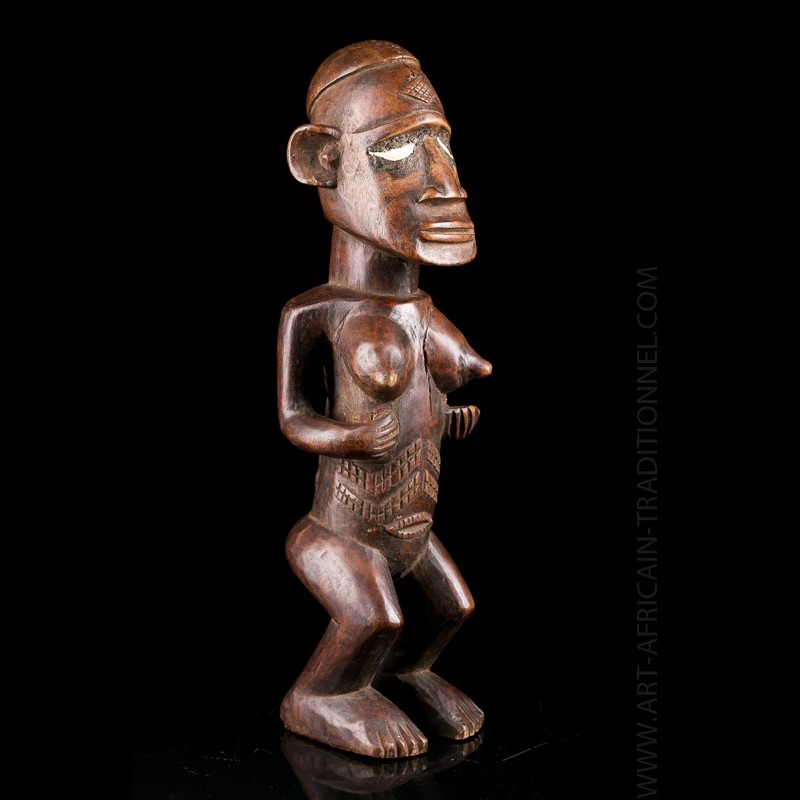  
Nkumba Biteki Bembe Figure
The Bembe, a subgroup of the broader Kongo ethnic group of the Democratic Republic of the Congo, use two types of key figures: ancestral figures used to represent and honor leaders of deceased communities and another group of influential people used by diviners heal evils.

The Bembe believe that the small anthropomorphic figures in wood are a representation of themselves, both in form and in spirit. Anyone with the financial means, usually experienced leaders and hunters, can commission an artist to carve a portrait of the individual in the way he wants to remember today and after his death.
The figures highlight the continuity between ancestors and living parents and demonstrate the important role that ancestors are thought to play in ensuring the fertility and protection of the family and the community.

All sculpted Bembe figures are called nkumba; figures that have not been "loaded" with special powers or the minds of their owners. On the death of the owner of a figure, pieces of the corpse of the individual are mixed with medicines and substances "magical" (bilongo).
This mixture is then inserted into a small carved hole near the rectum of the figure. By inserting the mixture and sealing the hole with a wooden cap and / or a wrapping sheet, the figure nkumba receives the spirit of the ancestor and thus turns into an ancestor figure nkiteki (also called kiteki, sibiti, bimbi or mukuya in some sources).

The Biteki characters are housed with other ancestral characters in a family shelter called nzo bakulu. The nzo bakulu is guarded by an elder of the family to which the characters belong.
Very beautiful patina and superb scarification work.
Data sheet
Presumed dating

1st half XXth century

Size

28 x 7 cm

Expert's estimate

400 - 475 €

Ethnic group

Bembe

Material(s)

Wood

Country

Democratic Republic of the Congo

Origin

Tribal art collection Belgium

Condition

Excellent