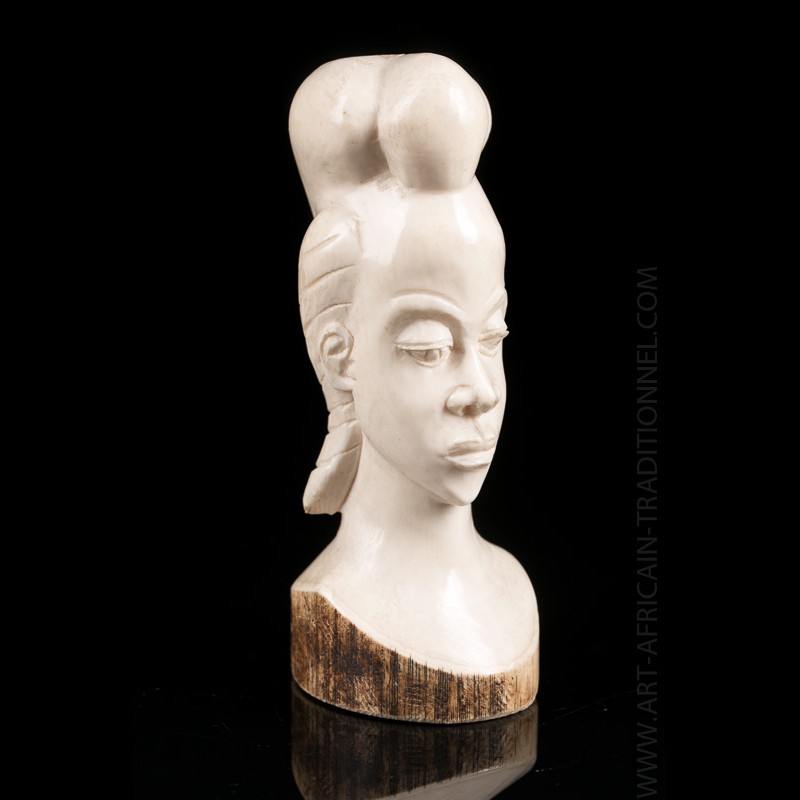  
Colonial head
African art is not limited to tribal or ethnographic art, it also has a colonial component linked to the Belgian presence. The boundaries between tribal art and colonial art are also sometimes blurred, the two having influenced each other.

Thus, very early on, sculptors from the Democratic Republic of the Congo or Zaire intensively produced objects intended for Belgians, including an important statuary in ebony and ivory. It was often a representation of idealized African individuals as evidenced by this most aesthetic female bust. If these objects were not used for ritual purposes, they nevertheless constitute an important historiographical and sculptural testimony from the beginning of the 20th century to the 1960s and deserve to be considered as objects of art in their own right.

The sculptors were also able to express their own sensibilities with great freedom, a freedom they did not necessarily enjoy for tribal production, which is sometimes very codified. According to their ethnic origins, they were nevertheless able to imbibe their culture and make it appear in colonial production, so we could guess a Mangbetu influence in the treatment of this head.
Data sheet
Presumed dating

Circa 1940

Size

15 cm

Material(s)

Country

Origin

Tribal art collection Belgium

Condition

Excellent