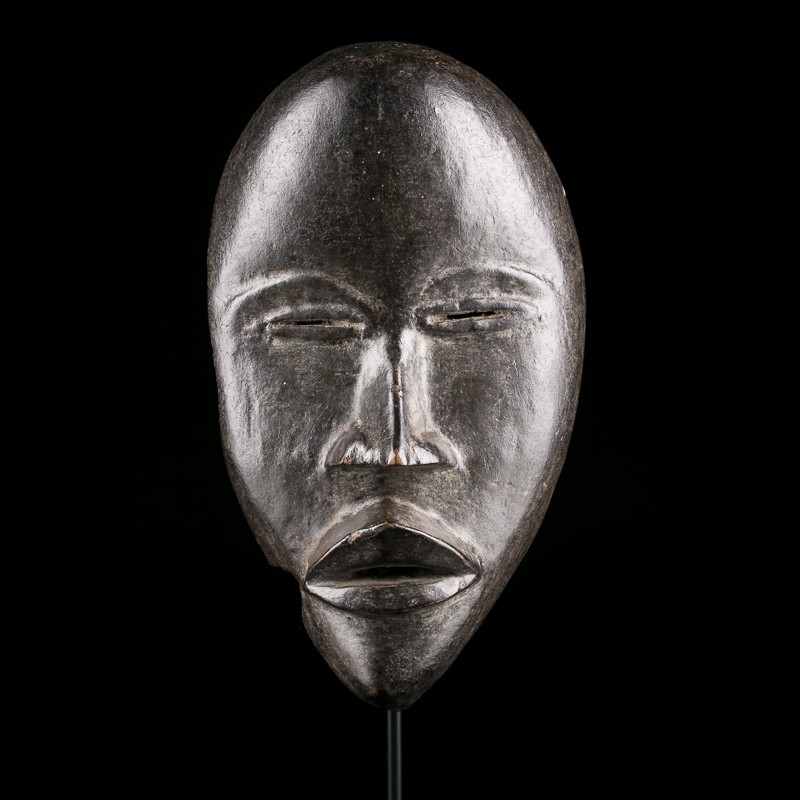  
Dan Deangle mask - SOLD OUT
Saved object: Dan art from West Africa
Some of these masks were abandoned, thrown away, destroyed or given as toys to children in the bush after desecration. This mask was bartered in the second part of the 20th century by our depositor along the way to a small group of children. Rare, this mask, rather complete and in good condition, wonderfully combines the aspect of rounded forms filled with sweetness with the historical aspect given its fragmented state. The lack also suggests a nice age of the wood. Without any doubt a beautiful collector's item. 
This beautiful wooden mask displays sensual forms that are beloved of the Dan people, and Western collectors. The soft features are expertly carved and reveal the idealized version of beauty that is revered by the Dan. The forehead is slightly domed and projects forward. The long, narrow eyes ate half closed and have gently curving brows above. the nose is long and straight with slightly flared nostrils. The lips are fleshy and the mouth projects forward. To the side of the mask are a series of holes for the insertion of a raffia beard and coiffure. 
Spirit masks of the Dan are described as gle which means "mysterious being". The masks serve as agents of social control as conveyed by the community elders. The Deangle masks represent female sprits of the forest and which served as mediators between the spirit world and the human world. It is believed these spirits have a desire to help humans and their intentions are revealed in dreams, which are then enacted during the ceremonies. The Deangle spirit is most notable during the circumcision ceremony. It is at this time that it leaves the camp where the boys are and goes around the village asking women for food for the men and boys who are in seclusion. This act of feminine care and love reassures the boys who have to go through a difficult and scary situation. 
Data sheet
Presumed dating

Mid XXth century

Size

26 cm

Ethnic group

Material(s)

Wood

Country

Origin

Gathered in situ

Condition

Damaged
Customers who bought this product also bought: