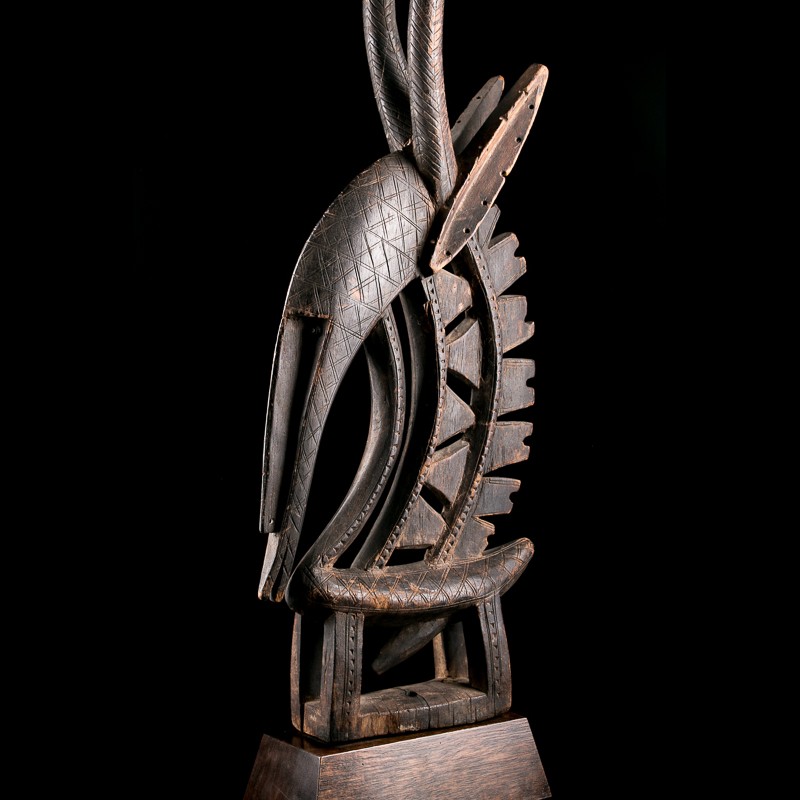  
Bambara Tyi Wara crest mask
This traditional high mask in the shape of a stylized antelope bears the name of Tyi wara or Ci wara. It was worn on the top of a cap placed on the dancer's head. It imitates the movements of the antelope, its walk and run. These masks danced in pairs; one male as here, and the other female. The dancer, leaning forward, uses two sticks to simulate the evolution of the quadruped, in the field, after the millet harvest.
Note the superb curve formed by the animal's mane and horns when looking at the piece in profile.

This African crest was linked to the Tyi wara initiatory society which established a link between man and the cosmos.
The initiation during which these masks were worn is not only to make the farmer a man of excellent physical and moral qualities, but also to study agricultural techniques and, in addition, to relate it with cosmic realities: sun and earth.

PJ Imperato, indicates in his article published in the magazine "African Arts" (1970: n ° 1) the legend concerning Tyi wara: "Being half-animal, half-human, born from the union of Mousso Koroni, first human being and a serpent ".
This piece previously offered for auction on Catawiki was estimated at € 5,500 - 6,500 by experts. We offer it here at a much lower price.
Support is included.
Data sheet
Presumed dating

1st half XXth century

Size

80 cm

Expert's estimate

5500 - 6500 €

Ethnic group

Material(s)

Wood

Country

Origin

Tribal art collection Belgium

Stand

Included

Condition

Excellent