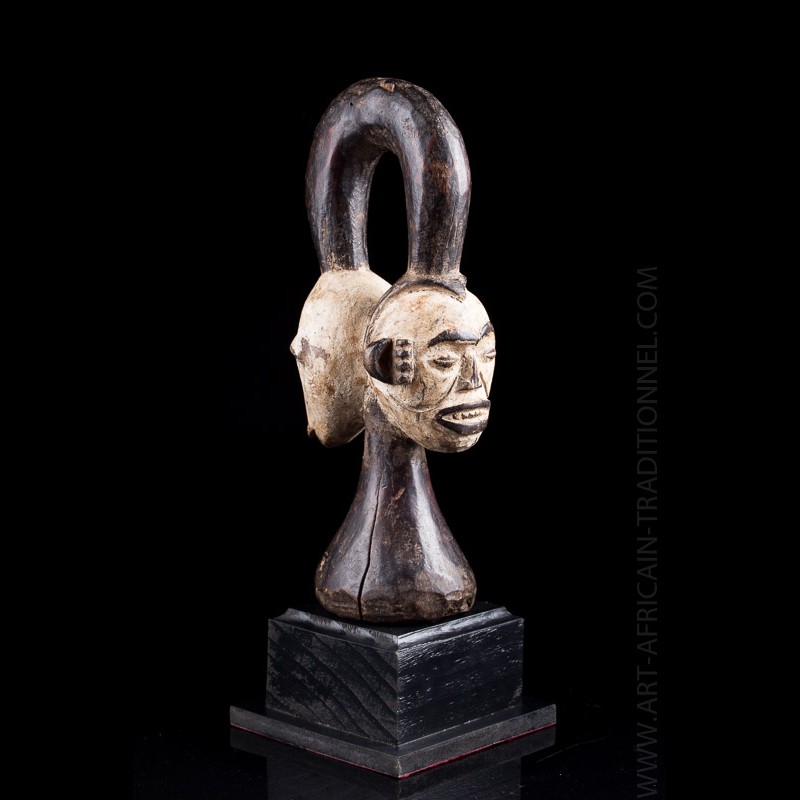  
Idoma mask Nigeria - SOLD OUT
This crest, with its singular beauty and iconography, is part of a corpus as remarkable as it is small. Most often janiformes and sometimes topped with birds, the most exceptional of them have a composition with four or six faces.
In the future and in the past ", François Neyt sees in the multiplicity of faces" the ubiquity of the spirit of the mask to whom nothing can escape "(Neyt, The Arts of the Beetle with the roots of the traditions, 1985, 129). In this respect, they are similar to the emblematic Sakimatwematwe statues of the Lega. Their name, ungulali (flute), recalls the sound of the instrument announcing the arrival of the dancers wearing these crests, at the funeral of notables and great entertainment ceremonies.
In the lower Bénoué Valley, the calendar of ceremonies coincides with the seasonal cycle of plantations and crops; only funeral commemorations occur systematically in the dry season, when field work is suspended. At Idoma, it is also time for the release of masks.
Data sheet
Presumed dating

Mid XXth century

Size

Expert's estimate

Ethnic group

Material(s)

Wood

Country

Origin

Tribal Art Collection Portugal

Stand

Included

Condition

Excellent