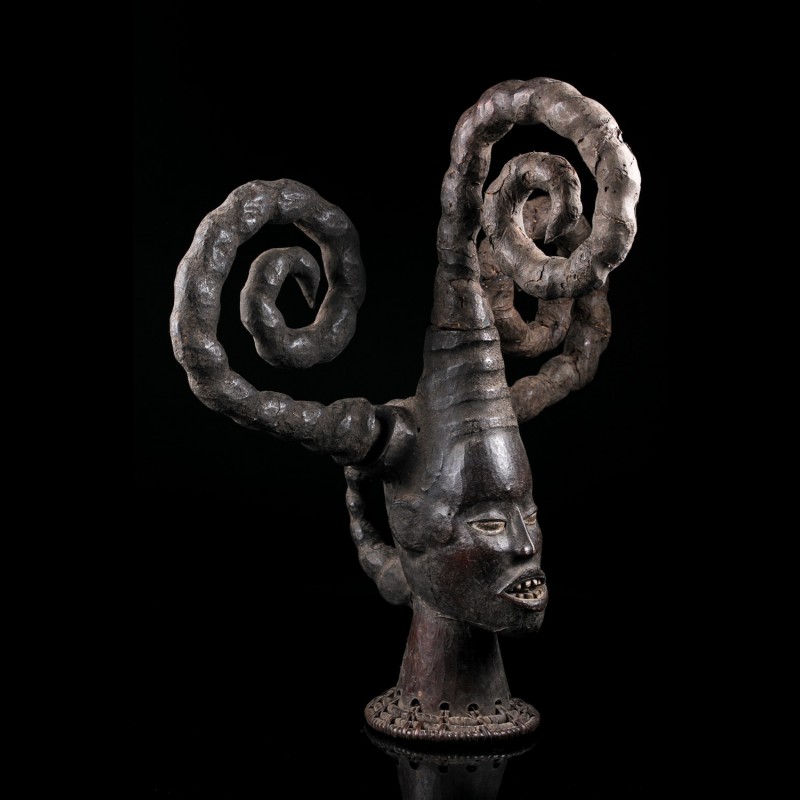  
Crest mask - Ejagham / Ekoi - Cameroon - SOLD OUT
Masks in wood and leather at Ejaghama Ekoi
This traditional African crest mask of Cameroon represents here a janiform character wearing a monumental hairstyle composed of three large appendages rolled up of an unexpected magnitude in the African statuary, and which testify to a real technical feat in the perfection and the symmetry of the coils. Ethnographic accounts report that this hairstyle was worn by young girls during the initiation and pre-marriage period.

The braids were obtained thanks to a rigid reinforcement and an overmodel of earth which kept the hair and the lashes brought back. The artistic production of the region of the Cross-River is distinguished by the use of a technique - unique in Africa - which consists of covering with animal skin a soul of carved wood. This technique is mainly used for crest and helmet masks.

The tanned skin then stretched on the wood restores the grain, brightness and volume of human flesh on the skeleton and gives these works a surprising reality. The treatment of the eye is also part of this quest for realism: the white is rendered by the use of kaolin, conferring on the eye an intense truth. Twisted growths are removable, it should be noted that it is rare to find these parts complete and intact.
Data sheet
Presumed dating

Mid XXth century

Size

58 x 52 cm

Ethnic group

Material(s)

Wood

Country

Origin

Tribal art collection France