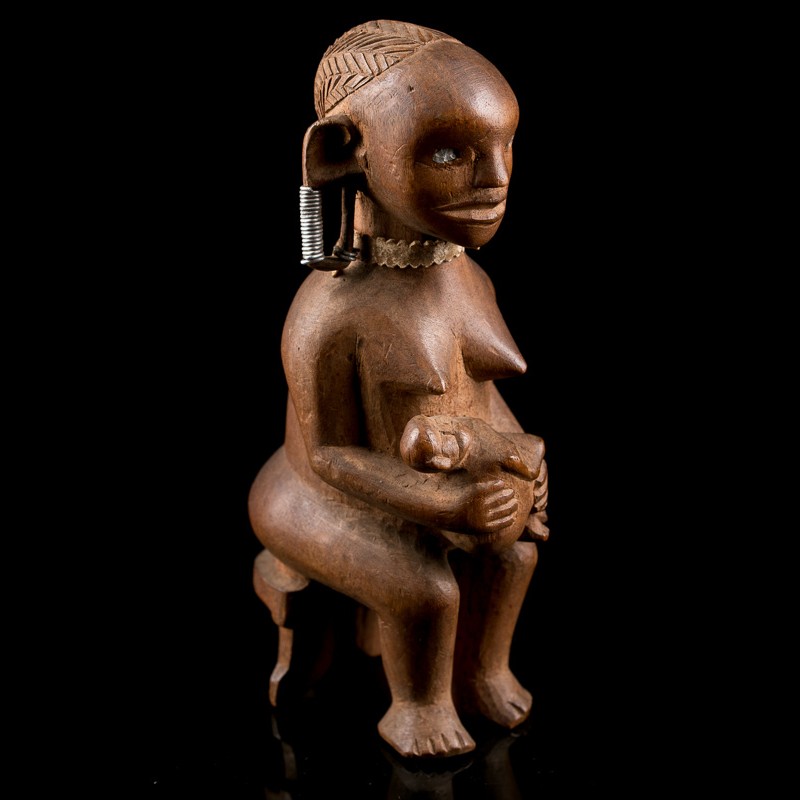  
Kamba maternity figure
Maternity in African art from Kenya
The Kamba also known as the Kikamba are close neighbors of the Sidamo, Guragé, Maasai and other groups of Kenya, Sudan, Ethiopia, Somalia. Their statuary is quite limited and composed of small statues of figures sometimes standing and sometimes seated, such as this maternity hospital. The shapes are always rounded and very soft. The elongated skull wore a detailed hairstyle. Kamba art objects most often have a very characteristic natural orange patina.

Here, the seated woman carries her child in her hands. Her elongated ears are decorated with ringed silver metal earrings. The small three-legged stool on which it rests is called muyumbo or ibila.

Very old and authentic piece brought back by an English collection on safari in Kenya in the early 1960s.
Data sheet
Presumed dating

Circa 1950

Size

21 cm

Ethnic group

Material(s)

Wood, metal

Country

Origin

Tribal Art Collection United Kingdom

Condition

Excellent