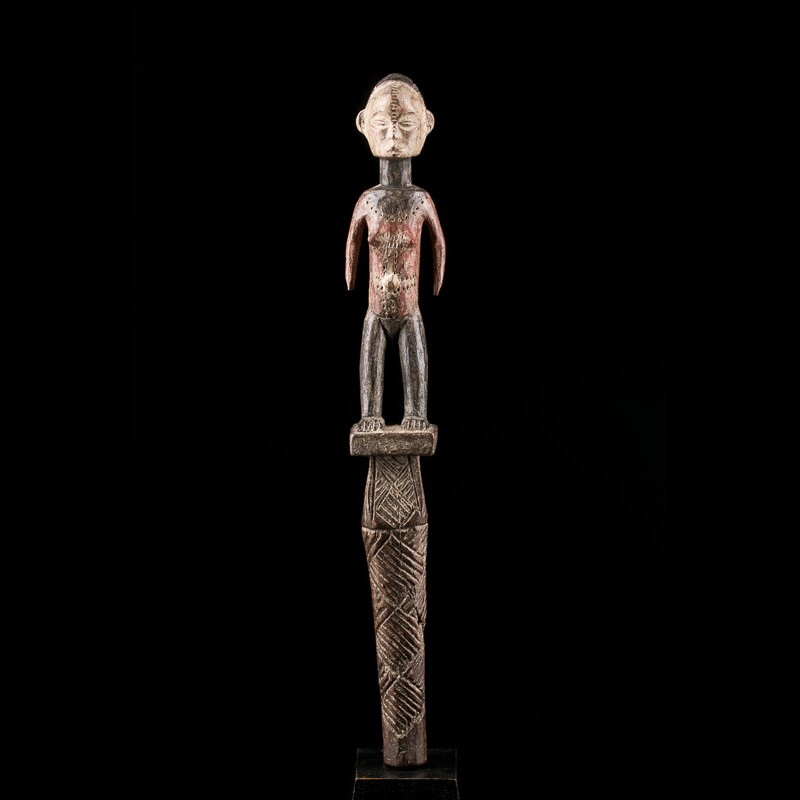  
Mbanza figurative sceptre
The Ngbaka and Mbanza had a system of initiation named gaza or ganza: "that which gives strength." Future initiates had to undergo trials of physical endurance and would attain a first level of knowledge by means of song and dance. In the rites of passage, re-creations of ancestors played an important role with celebrants wearing masks and carrying staffs, such as this example. Circumcision rituals took place after several months spent outside the village.
See the book "Ubangi - Art and culture in the heart of Africa", Actes Sud, 2007, page 197, fig. 4.66. : a Mbanza statuette is presented (see photos), the two copies have very strong similarities, we could therefore attribute them to the same sculptor or to the same workshop.
The figurine presented in the book is inventoried n ° G 1451, Ethographic collection, Nationalmuseet, Copenhagen.
A wooden staff top carved with the standing figure of a female, the hair arranged in bands sweeping back to the top. The face has small, slit like eyes and the mouth is pursed and small. The nasal ridge is carved with a series of notches possibly to represent scarification marks. The body is long and has small breasts and prominent navel. The arms are pendant to the sides. The face is painted white, the neck and legs black, whilst the body has red pigment. Below the figure os handle engraved with a series of lines forming a geometric pattern.

Piece appraised by M. Gaunt, Buxton Museum, United Kingdom.
Data sheet
Presumed dating

Circa 1940

Size

33 cm

Expert's estimate

Ethnic group

Material(s)

Wood

Country

Origin

Tribal art collection Belgium

Stand

Included

Condition

Excellent