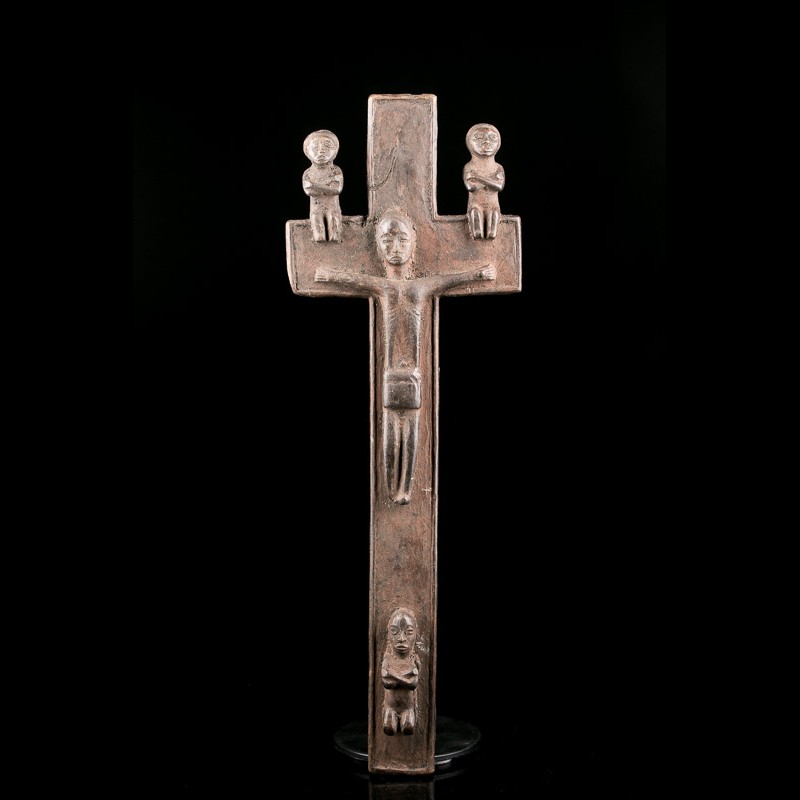  
Kongo Nkangi Kiditu crucifix
Christianity in Kongo african art
At the heart of certain Bakongo sub-groups, some Mfumu chiefs kept nkangi kiditu crucifixes such as this one among their prestigious objects. Relics of Christendom dating from the first evangelization missions from the 15th to the 18th centuries, these objects have become part of the Kongo culture and have become objects of power in their own right.

The Christian symbolism was gradually replaced by a traditional Kongo symbolism relating to the world of the ancestors and that of the living. On the death of a chief, the crucifix was handed over to his successor in a specific ceremony guaranteeing its legitimacy. The role of this object was not limited to the expression of the materialization of authority but could also intervene in a therapeutic framework or in connection with the cult of ancestors.

Research has shown that European missionaries also placed orders from local sculptors to make ivory or wooden crucifixes.
Data sheet
Presumed dating

1st half XXth century

Size

39,5 cm

Ethnic group

Material(s)

Wood

Country

Origin

Tribal art collection Belgium

Condition

Excellent
You might also like