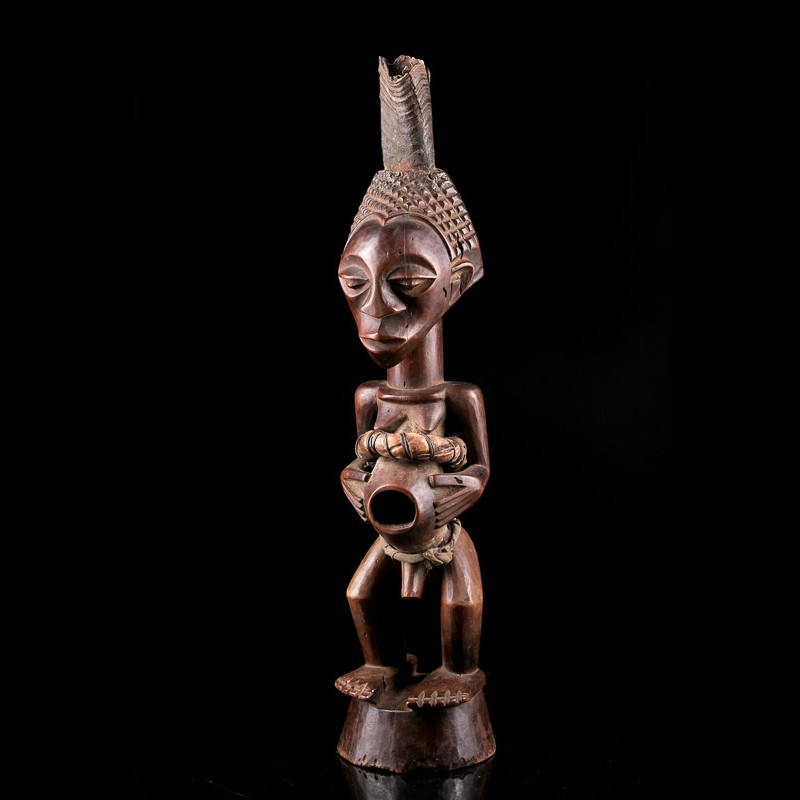  
Songye Nkishi power figure - SOLD OUT
Power in Songye african art
A wooden figure of a male with part of a large animal horn projecting from the top of the head. The curls of the hair are represented by a series of lozenge shapes and forms a wedge shape. The face has arching brows that flow to the wedge shaped nose. The eyes are bulbous and half open. The mouth is slightly open and has fleshy lips above the projecting chin. The body is characterised by a pot belly with recess to the navel for the insertion of sacred substances. The hands rest either side of the stomach and to the top of the belly and around the waist is a plaited plant fibre belt. The knees are slightly bent and the feet rest on an oval base.

Among the sculptural traditions of the Songye of the southeastern Democratic Republic of the Congo is that of large, standing, often male figures with arms and hands placed at their sides or on their stomachs. The abdominal cavity once contained empowering medicines (bisimba), which have been lost. Among the Songye, such figures (mankisi) were associated with a magico-religious society known as the bukisi, which controlled initiation camps and circumcision ceremonies. A ritual specialist added magical substances, bisimba, to activate the figure as a source of power that would ensure the well-being of a community or individual. Generally speaking, community mankisi serve a limited range of social needs such as procreation, protection against illness, sorcery, witchcraft, and war, and the preservation of territorial claims.Because the figures were considered dangerous, specialists maneuvered them with sticks attached to their upper arms. A figure could be judged ineffectual because of the death of the ritual specialist who had furnished it with its powers, or after failing a series of tests to measure its power. In such instances, all of its empowering materials would be removed, and thus it would be deactivated.
Piece comes from an important Belgian collection. It was described by Mr. Gaunt, responsible for ethnographic collections at the Buxton Museum, United Kingdom. Reference
SQ0619172.
Data sheet
Presumed dating

Circa 1950

Size

42 cm

Expert's estimate

1100 - 1300 €

Ethnic group

Material(s)

Wood, accessories

Country

Origin

Mongu private collection, Belgium

Condition

Excellent
You might also like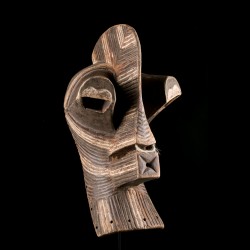 Regular price
€730.00
-25%
Price
€547.50