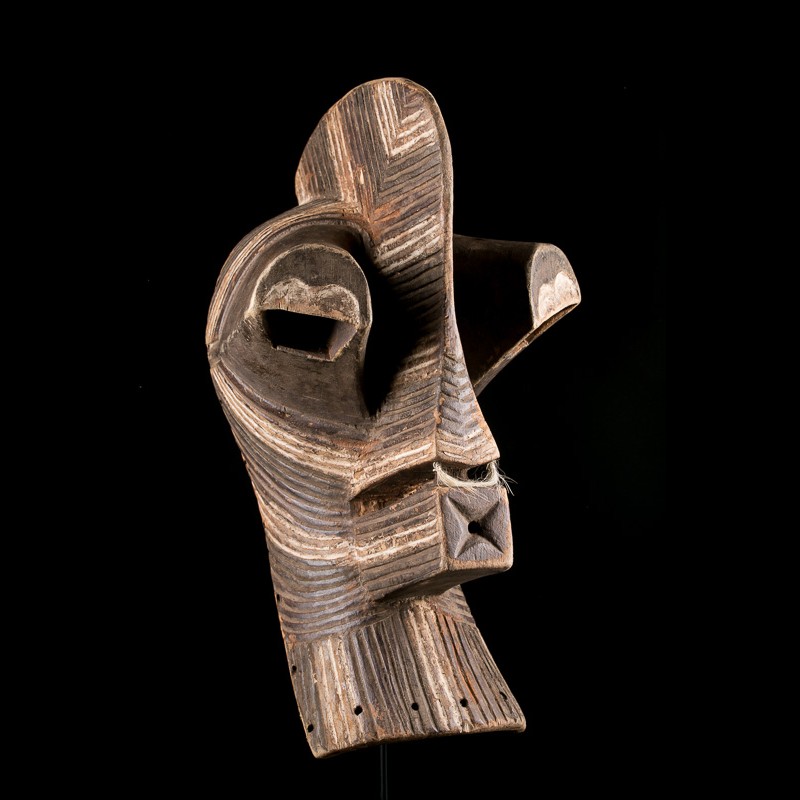  
Songye Kalebwe Kifwebe Kilume mask
Bwadi Bwa Kifwebe mask in African art
This large, gracefully protruding mask features a large nasofrontal crest adorned with radiating streaks. At the top, herringbone patterns. The protruding eyes are open from a cavity on the lower part. The eyelids are detailed in light pigment.

A very fine example of a "Kilume" male mask sculpted by the Songye Kalebwe ethnic group in the Democratic Republic of the Congo. Icons in African art, the traditional masks linked to the Kifwebe society are easily identifiable although there are many typologies according to the regions and ethnic groups since the Luba, too, sculpt such masks.

Piece from the Mongu collection, Belgium. Mr. Mongu, a retired professor from western Congolese, has himself collected many unique and remarkable objects in situ.
Data sheet
Presumed dating

Circa 1950

Size

50 cm

Ethnic group

Material(s)

Wood

Country

Origin

Mongu private collection, Belgium

Condition

Excellent