Songye Nkishi power figure
Witchcraft and African art among the Songye
Powerful African statue of the nkishi type. It is a figure of power that was sculpted to order and then charged by a nganga, a sorcerer specializing in the making of charges intended for magical objects and in divination among the Songye.

There are a host of details on this remarkably sculpted and preserved piece. The sculpture itself with a very special treatment of the pubis since we observe linear scarifications, which is quite unique. The long neck is ringed. Above rests a cubist-looking head whose chin has an open mouth. Indeed, the nkishi, in his protective role, must by all means remove bad luck from misfortune. Thus, through this mouth, he repels evil with a cry.

Around the neck, pearl necklaces. Brass nails are stuck in the face, giving the nkishi greater power. At the top of the skull is housed the small horn still bearing its magical charge.

In a contextual photo, observe statues of power gathered.
To go further, I also recommend the works whose photos are attached.
Data sheet
Presumed dating

Mid XXth century

Size

35 cm

Ethnic group

Material(s)

Wood, accessories

Country

Origin

Tribal art collection Spain

Condition

Excellent
You might also like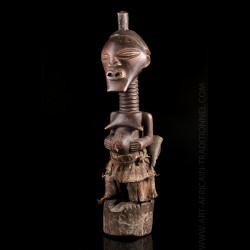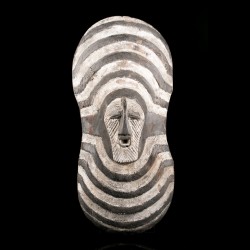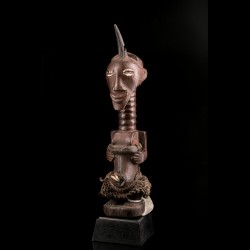 Regular price
€2,750.00
-€1,300.00
Price
€1,450.00