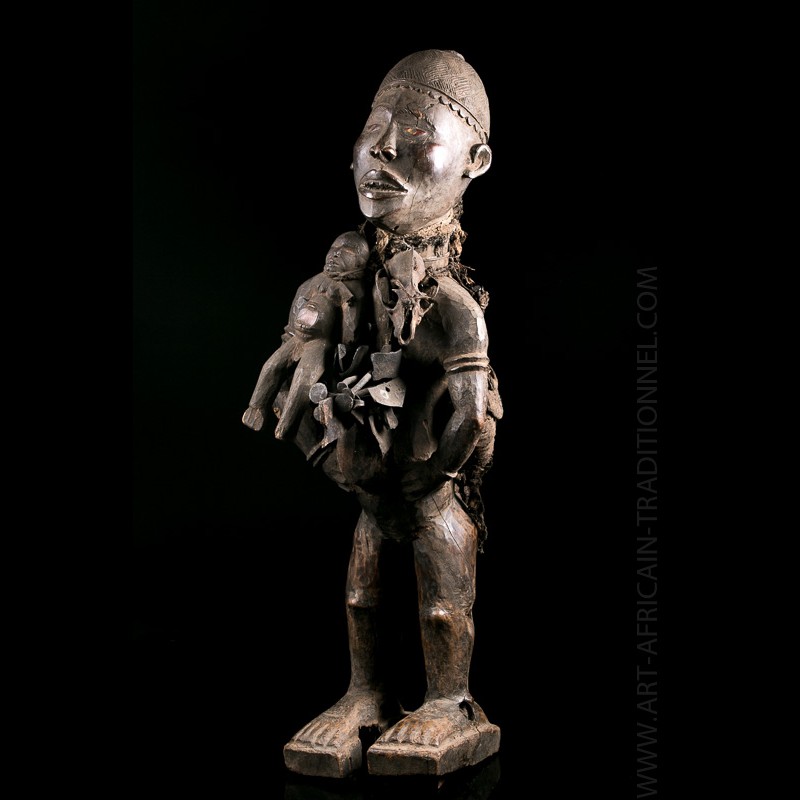  
Nkisi Nkondi Power figure Kongo
The power of a Nkisi Nkisi fully asserts itself so that the essential gesture, the strong point of sculpture, arises. The shoulders emphasize the musculature of the bust and the back, the kidneys are deepened, but the legs firmly camped remain tense, while the hands with the joined fingers come to rest on the hips. The gaze also comes from a specific gesture, since the eyes of Kôngo works are generally wide open, with dilated pupils. On some fetishes these sometimes disappearing completely, or represented half-closed to form a narrow slit. Nkisi means any force enclosed in a material support, statue, statuette, carved in the wood, packet, horn, shell, etc.
Misfortune and sickness are considered to be manifestations of a supernatural power, or effects caused, at the request of an enemy, through witchcraft. Made in the greatest secrecy, each Nkisi belongs to a particular class. Intended for divination, communication techniques with the hereafter, the one we propose is large, the most impressive and the most formidable, can reach up to 1 meter high. It is dedicated to personal protection, its role is to detect and then annihilate the dangers threatening its owner. Loaded with various accessories, the Nkisi also provides therapeutic functions. Nkisi Nkisi is efficient for acts that cancel out the effects of witchcraft, but it also intervenes for rituals in which commitments involving relations of interest between various parties are contracted. The role of the nganga, both witness and officiant of the cults, is of fundamental importance: the effectiveness of Nkisi Nkondi always depends on the know-how and the vigilance of the operator.

Plant nails in the object, smear it with earth, spread animal blood on certain parts of the body, tie up cords of fibers or pieces of cloth, fix on the belly a huge cowrie shell or place one or two reliquary closed by a piece of glass correspond to acts of incomparable power: the nganga can thus channel the energy allowing him to awaken Nkisi Nkondi.
This ancient piece, which has been used for many rituals, was obtained in Yombe territory (Mvouti district, Makaba village to be exact), in the far west of the DRC, in 1993.
This room belonged to the village chief. According to the latter, it dates from the end of the 19th century, but the previous owner situates it rather around the 1940s on the basis of an in-depth study of style, close to the 2nd generation of ethnographic objects, and his long experience of fetishes. Kongo. This is an exceptional acquisition.
Data sheet
Presumed dating

Circa 1950

Size

80 x 25 cm

Ethnic group

Kongo / Bakongo

Material(s)

Wood, accessories

Country

Democratic Republic of the Congo

Origin

Tribal art collection Belgium

Condition

Excellent