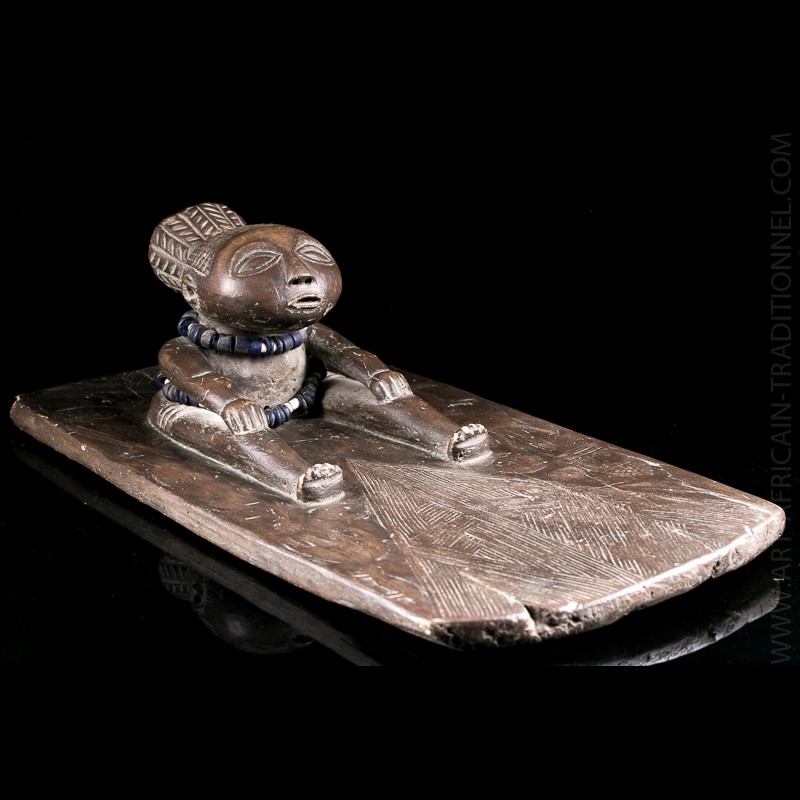  
Plaque figurative - Luba - Congo DRC - SOLD
The richness of African art Luba
The sacred writing desk consists of a carved wooden board. In addition to the mnemonic signs, this copy has a character sitting on the tablet.
The esoteric signs of the sacred writing hall lukasa are at the crossroads of oral traditions and those of sculpture.
On the one hand, they evoke the kalaala epic songs, the royal court's licensed singers keeping the memory of the original myths and the history of the dynasties, the spirits and geniuses present in the stars and the cosmos.
On the other hand, the object itself is covered with simplified features representing a proverb, a mnemonic code. The lukasa writings thus preserve the most important symbols of the sacred and royalty.
We note here the rare typological character sitting with rounded and generous features.
A glass paste necklace is on his neck. Note also the care given to details such as ears, nostrils, mouth.
Rare object.
Data sheet
Presumed dating

1st half XXth century

Size

14 x 48 cm

Ethnic group

Material(s)

Wood

Country

Origin

Tribal art collection Belgium