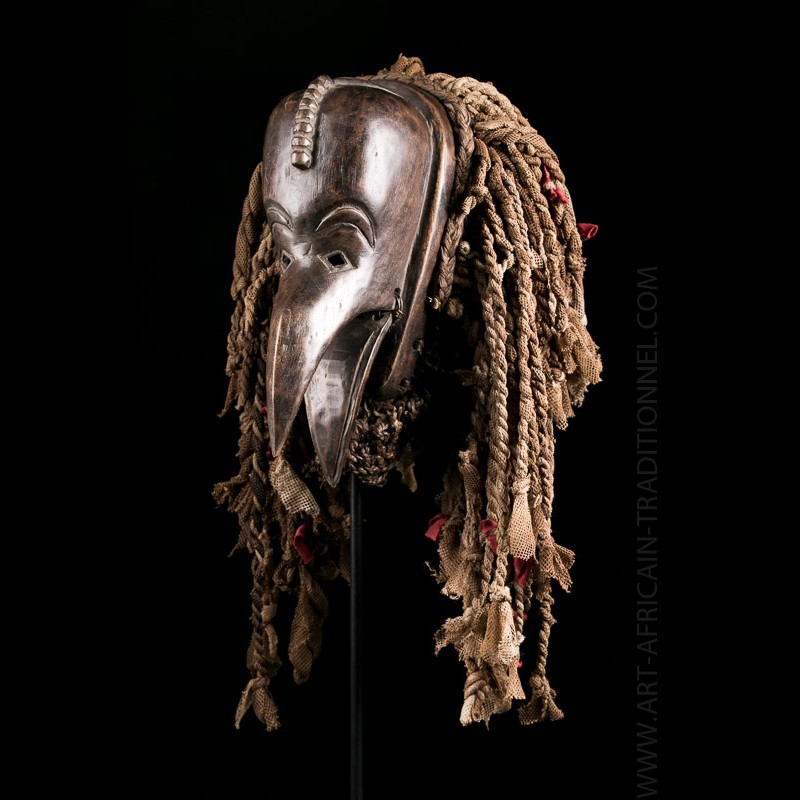  
Chokwe Chikwekwe bird mask - SOLD OUT
This Chokwe African mask features Chikwekwe, an ancestral spirit that takes the form of a bird: the arboreal hornbill of the same name. The Tchokwe's ancestral masquerades, known as Akishi (mukishi singing in Angola or Makish / likishi in Zambia), are usually conducted as part of Mukanda, a rite of passage for boys to adulthood.
Chikwekwe is one of those Akishi characters who, endowed with different physical attributes, take on a public face to spiritually help the initiates and educate the public on various topics ranging from moral values ​​to religion through cosmology and worldview. .

The traditional character Chikwekwe possesses extraordinary powers. The hornbill announces the sunrise but is symbolically perceived as a creature of the night, fulfilling its supernatural feats in a world to which very few humans have access. Chikwekwe's ambiguous attributes, related to hidden and invisible things (the darkness that precedes sunrise), refer to the very secretive initiation of adult men, known as mungonge. A chokwe friend, named Bernard Mukuta Samukinji, says the following about Chikwekwe's masks: "Young men do these things for the mukanda, but in fact, the tribal mask symbolizes an extreme supernatural power that is not invoked privately by men than in the evening, at a time when disturbing beings are coming to life, threatening and torturing the initiates of the mungonge.

We can therefore see in Chikwekwe a rather ambiguous ancestral character that gives access to extraordinary powers. The symbolic counterpart of the hornbill is the stork, Nkumbi, who is also personified by a mask. It is associated with daylight and defined as a solar bird that announces the evening. Various peoples of Angola, Zambia and the Democratic Republic of Congo - the Lunda, Luvale, Luchazi, Mbunda and other Chokwe-related peoples - also organize akishi with wild birds (hornbill, stork) or domestic birds (guinea fowl, rooster).
Data sheet
Presumed dating

1st half XXth century

Size

24 x 10 cm (without headdress)

Ethnic group

Material(s)

Wood, rope

Country

Origin

Tribal art collection Belgium

Condition

Excellent
You might also like