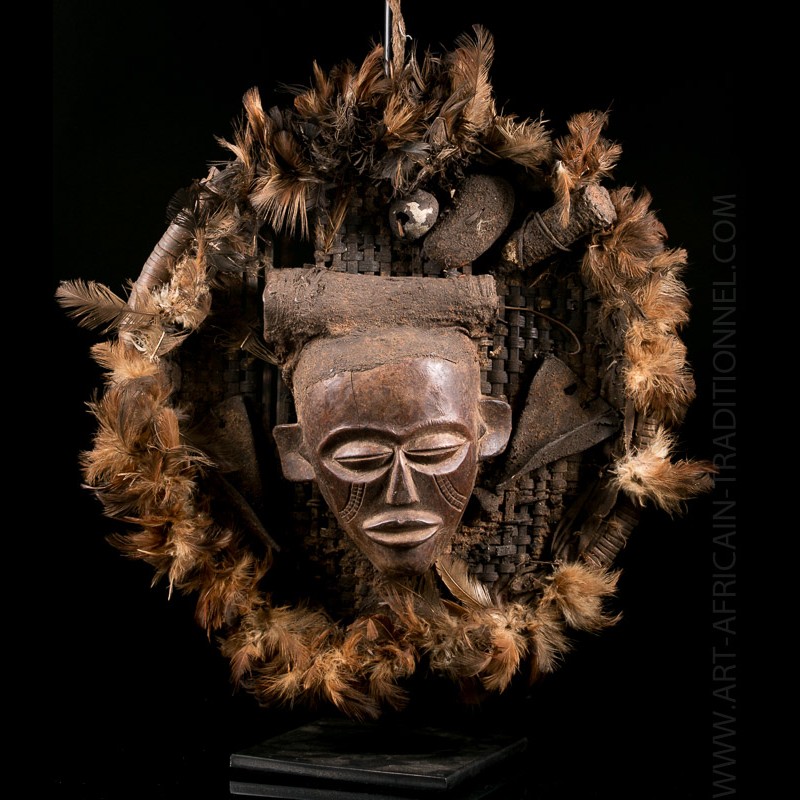  
copy of Chokwe divinatory instrument
This very exceptional object would be, according to Neyt, a panel intended to fix there the famous mask of woman Pwo among the Chokwe.
This presentation of the mask is, so to speak, unprecedented. The small mask, presumably not intended to be worn on the face, is fixed in the center of a woven wicker circular panel. On the perimeter, feather ornaments. The small antique mask perfectly meets the aesthetic canons of chokwe sculpture of Angola.
African art object for collectors looking for unusual pieces.
This piece illustrates as a reminder, that knowledge about tribal art is constantly lacking and requires ever deeper research.
Piece from a prestigious Brussels collection of African art. More information will be passed on to the buyer.
Data sheet
Presumed dating

1st half XXth century

Size

40 x 40 cm

Ethnic group

Chokwe / Tchokwe / Tschokwe

Material(s)

Wood, accessories

Country

Angola

Origin

Tribal art collection Belgium

Condition

Excellent
You might also like